Gijs de Boer commands an Arctic air force of unmanned miniature planes
Making an appearance at the White House in early May was 36-year-old Gijs de Boer, who is both an Atmospheric System Research scientist and ARM Climate Research Facility user. He is a prolific researcher with the NOAA Cooperative Institute for Research in Environmental Science (CIRES) at the University of Colorado, Boulder, and was among 106 young professionals in town for the Presidential Early Career Awards for Scientists and Engineers (PECASE).
President Obama said in the White House announcement in February, "These early-career scientists are leading the way in our efforts to confront and understand challenges from climate change to our health and wellness. We congratulate these accomplished individuals and encourage them to continue to serve as an example of the incredible promise and ingenuity of the American people."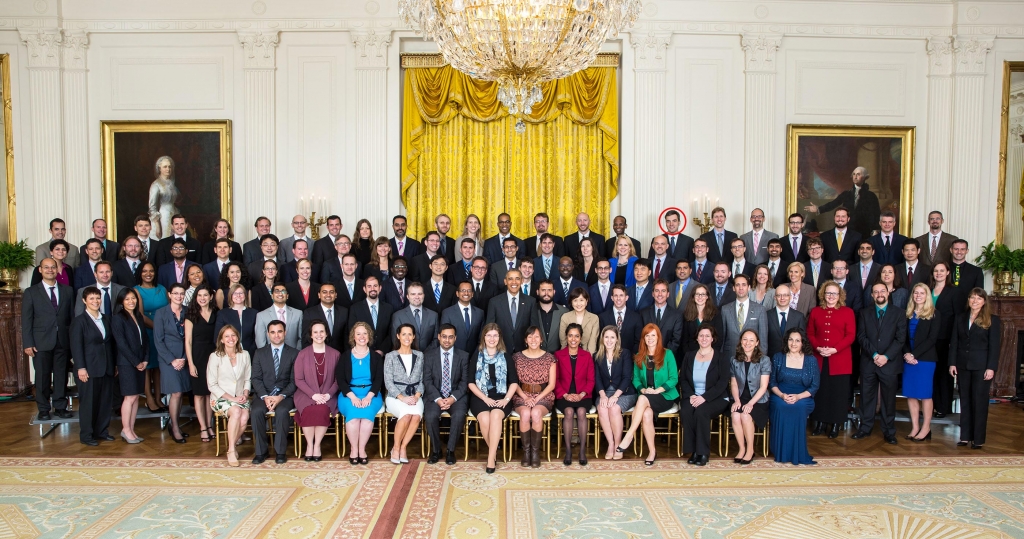 The honor is American science's most prestigious national award for those just starting independent research. De Boer was named for his contributions to climate science and for his public outreach, largely to native tribes in Alaska.
From Alaskan Field to White House Dinner
Taking his seat for the ceremony, de Boer (whose first name sounds like "hice") still had a hint of windburn from doing 16 days of science on Alaska's frigid North Slope. On April 1, he stepped off a plane at Deadhorse, Alaska (population 50), and the days soon turned… Arctic. Winds gusted to 50 mph and the mercury slipped to 40 degrees below zero with the wind chill: Time for a hat, goggles, gloves, neoprene survival suit, down parka, and arctic boots the size of grizzly bear feet.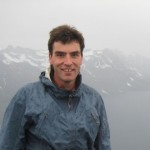 De Boer loved it. The onetime heavyweight crewman at Cornell University first fell for cloud science (and the Arctic) as a graduate student at the University of Wisconsin. In April, he led a team gathering low-atmosphere data with unmanned aerial systems at Oliktok Point in the Prudhoe Bay oilfield region 35 miles northwest of Deadhorse. That's where the third ARM Mobile Facility (AMF3) was deployed in 2013 at a U.S. Air Force radar site on the shore of the icy Beaufort Sea. De Boer is the ASR science team lead for ARM's efforts at Oliktok.
It was de Boer's third research trip to Oliktok, and his second in charge of the science team for an ARM field campaign called ERASMUS, or Evaluating Routine Atmospheric Sounding Measurements Using Unmanned Systems. Oliktok was just the place, de Boer said, to get fine-grained measurements on the role of clouds in the Arctic's rapidly changing climate. His team's unmanned aerial systems data will supplement and refine measurements collected over the long term by ARM's ground-based instruments, instrument probes, and tethered balloons.
The climate-influencing properties of clouds in the Arctic, including the size and number of droplets and ice crystals, and the particles on which these form, are only crudely represented in most numeric global climate models. Typically, information on these processes is gathered from single data points at the surface. Then the information is averaged over time to produce statistics representative of a model "grid box," some as large as hundreds of kilometers square. That results in data gaps.
"Models don't really do well with clouds up here in the Arctic," said de Boer.
Testing the Expanding Unmanned Aircraft Fleet
Unmanned aircraft, however, can fly dozens of missions a day, high and low, and produce data over a wide-ranging set of spatial scales. Unmanned aircraft are especially good, said de Boer, at measuring the subtle physics of the climate-vital transition zone between clouds and features on the Earth's surface, including frozen sea, open water, and land formations. It is there, he said, that "turbulent fluxes of heat and moisture" are mysteriously at play in the Arctic. Global warming seems to be happening faster in the Arctic than at other latitudes, said de Boer, and any changes there "really do have global significance."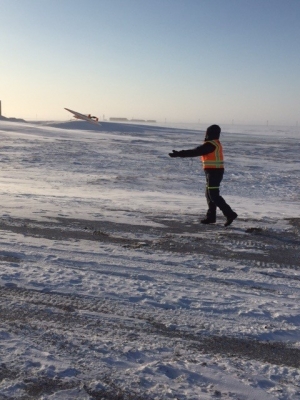 Through collaboration with CU-Boulder's aerospace engineering department and RECUV (the Research and Engineering Center for Unmanned Vehicles), the ERASMUS team expanded their Arctic air force this year. The workhorse aircraft is still the DataHawk, a 2-pound platform with a 39-inch wingspan, $850 worth of components, and a 40 mph top speed. Half battery by weight and launched with a bungee cord, it can buzz 30 kilometers out and back to measure temperature, humidity, barometric pressure, and winds in the critical lowest 2 kilometers of the atmosphere. This allows the DataHawk to capture a three-dimensional picture of the complex cloud-Earth interface. By contrast, said de Boer, "a lot of surface sensors only point upwards."
This year de Boer's team added the 55-pound Pilatus airframe, which has a wingspan of 10.5 feet and top speed of 60 mph. It can carry more expensive, heavier, and more complex instrumentation through the sky, collecting critical measurements of aerosol particles, thermodynamics, and radiation.
Gathering small-scale data is one goal of ERASMUS, said de Boer. So is testing the operational limits of the unmanned aircraft, which he envisions can be useful in gathering climate data in places beyond the Arctic. At Oliktok, he and his team worked around interference from high-powered ground surveillance radar at the Air Force site. They also discovered that the Pilatus performed best in extreme-cold flight after being "cold soaked" beforehand inside a frigid hanger. Of both data-gathering little planes, he said, "We learn something every day."
de Boer's White House award also mentioned his aim to get as many young scientists studying the Arctic up to the Arctic itself. He remembered the "beautiful data set" he had from lidar instruments as a graduate student at Wisconsin. But it was unalloyed by actual cold and wind, or by the insights you get by seeing the landscape in person. Beyond just data, "you learn so much by being there," said de Boer of the Arctic. "You absorb a lot."
# # #
This work was supported by the U.S. Department of Energy's Office of Science, through the Biological and Environmental Research program as part of the Atmospheric System Research program.