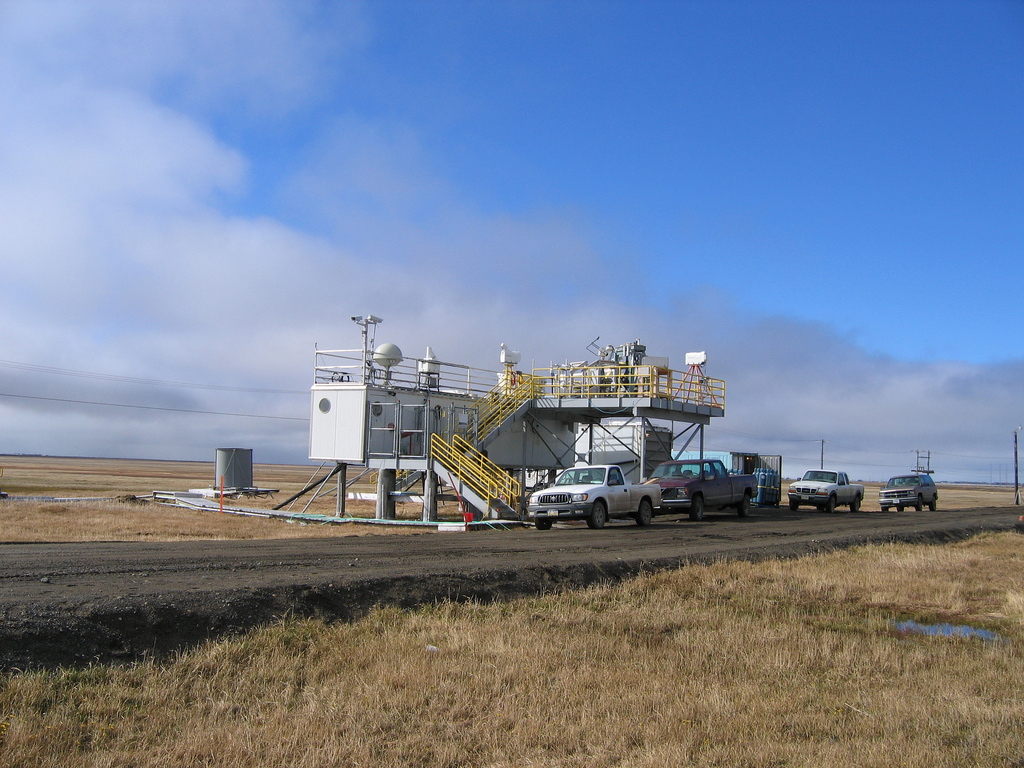 Barrow and Oliktok Point, two small places in Alaska, have a big place in understanding the Arctic, a region of the world where climate change has come early and in exaggerated ways. Warming trends there, for instance, are roughly two times the global average.
Both of these specks on the Alaska map are home to heavily instrumented facilities that take continuous measurements of clouds, aerosols, precipitation, radiative energy, and other processes vital to understanding climate.
That distinction put both the federal sites at Barrow and Oliktok Point among 10 observatories in a pan-Arctic science consortium called the International Arctic Systems for Observing the Atmosphere (IASOA), which was led and implemented by the National Oceanic Atmospheric Administration (NOAA).
IASOA was featured in two recent Bulletin of the American Meteorological Society articles that went online in June. The first introduced IASOA as a "legacy consortium" inspired by the International Polar Year of March 2007 to March 2009, the fourth in a themed series dating back to 1882-83. (The others were in 1932-33 and 1957-58.)
The second article outlined the cyber infrastructure and collaborative challenges posed by integrating research and data from such a diversity of scientists, nations, and instruments. Seven of eight nations bordering the Arctic have IASOA observation stations: the United States, Canada, Greenland, Denmark, Norway, Finland, and Russia.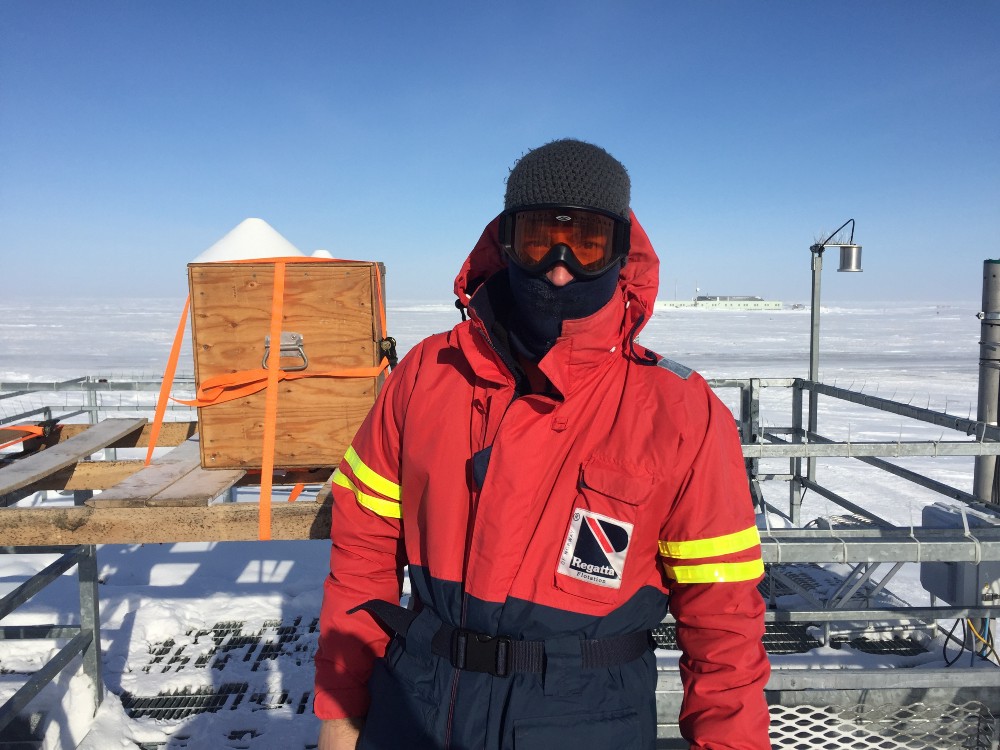 "When we're talking about developing global climate models, we need to have a global perspective," said Gijs de Boer, an Atmospheric System Research (ASR) scientist based at the Cooperative Institute for Research in Environmental Science at the University of Colorado, Boulder. "What is great about IASOA is that it provides the means necessary for obtaining such synthesis."
Oliktok's Interface of Land and Sea
A specialist in how clouds interact with Arctic sea ice and land formations, de Boer was among co-authors of the first article. He is also on the IASOA steering committee and participates in most of the group's six science working groups, including those on radiation, fluxes, clouds, and aerosols.
De Boer is a veteran arctic researcher and the science team lead for the observatory at Oliktok Point, supported by the Department of Energy (DOE). It is located at a U.S. Air Force radar station 35 miles northwest of Deadhorse in the Prudhoe Bay oil and gas field region.
Oliktok Point hosts the third ARM Mobile Facility, a mobile suite of about two dozen instruments managed by DOE's Atmospheric Radiation Measurement (ARM) Climate Research Facility. Poised on the shore of the Beaufort Sea, the installation has access to a climate-critical interface of land and sea along the southern rim of the Arctic Ocean.
On a landing strip there, during periodic visits since 2014, de Boer has led a science team using unmanned aircraft to sweep up data on turbulent fluxes of heat and moisture, along with other factors that comprise the subtle physics of this transition zone formed by frozen sea, open water, and land. Under Federal Aviation Administration rules, restricted airspace there allows such aircraft to operate uninterrupted.
"Oliktok adds the uniqueness of airspace" to the IASOA picture, he said, "which is something that is difficult to duplicate at the other sites." But de Boer hopes the IASOA collaboration will inspire similar airborne data-gathering by unmanned miniature aircraft, such as the 2-pound DataHawk, so light it is launched by bungee cord. "A bit of work on that front will hopefully help to drive similar sites in other countries."
Barrow's Long-term Data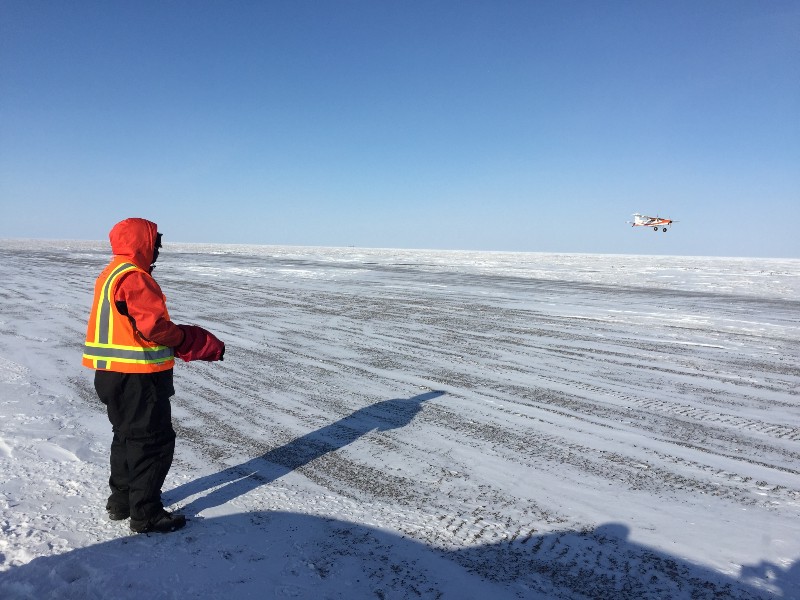 About 185 miles west-northwest of Oliktok Point is Barrow, where the ARM Facility installed its North Slope of Alaska (NSA) atmospheric observatory in 1997. There are nearly 40 instrument types at play at the Barrow Environmental Observatory, which is bounded by man-made Gasline Road and nature's icy Elson Lagoon. Included are devices that observe clouds, sense down-welling radiation, and measure aerosols, temperature, wind, humidity, and other routine factors that, over time, supply scientists with a profile of regional climate facts and trends.
NOAA also deploys a suite of instruments at Barrow, which is one of the agency's baseline observatory sites. The synergy and collaboration between the ARM Facility and NOAA at Barrow strengthens the comprehensive nature of measurements obtained there.
Regarding U.S. climate instrumentation in the Arctic, "Oliktok and Barrow are some of the most complete stations" on the IASOA list, said de Boer. "The range of measurements made at these stations exceeds nearly all of the others."
Duration is another advantage that Barrow especially brings to the IASOA table. "The length of record at Barrow is important," he said. "It can help to put studies using stations with shorter records in perspective climatically."
IASOA operates as a kind of research force multiplier. "The consortium provides a link that brings all of the sites together," said de Boer. "ARM does this for NSA and Oliktok, but IASOA then builds on that and integrates those sites into a pan-Arctic network. Funding bodies don't necessarily support such a perspective directly, because they are often rooted in national or agency-specific missions and objectives."
Research working groups supported by ASR can meet their scientific objectives and still overlap with the IASOA effort, he added, pointing to the international synergy climate change requires. "This overlap helps to streamline support of scientific synthesis."
# # #
This work was supported by the U.S. Department of Energy's Office of Science, through the Biological and Environmental Research program as part of the Atmospheric System Research program.