Allison McComiskey's path to atmospheric science involved fruitful swerves into biology, deep history, and the environment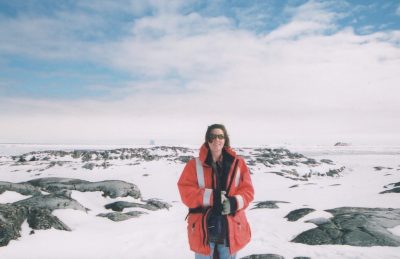 Science is the practice of informed looking. It requires an early embrace of observation, curiosity, and questioning.
So it was with Allison McComiskey, a physical scientist with the Earth System Research Laboratory at the National Oceanic and Atmospheric Administration (NOAA). She grew up in New Orleans, the daughter of a physician and an anthropologist. Every summer, she and her parents and brother and sister would pile into the family car for prolonged trips west.
"I drove my dad crazy with questions," she says, remembering a hope that his training as a doctor would translate into lore about trees, mountains, and sand dunes. She remembers asking, "Why are the bottoms of clouds flat?"
Influenced by her father's medical practice, she started at Southern Methodist University (SMU) as a biology major, but soon woke to her mother's influence as an anthropologist by taking what she called an "inspiring" class in that subject. McComiskey switched to anthropology, and in 1990, during the summer after her junior year, attended SMU-in-Taos, where classes included an archaeology field school.
"Living out in a cabin in the Southwest, digging in the dirt—how could it get any better?" she says of her first research interlude in the field. "And there was science on top of it."
Dig Sites to Satellites
Right out of college in 1992, McComiskey worked for a Flagstaff, Arizona, consulting firm, learning "salvage archaeology" in a Durango, Colorado, field office. At dig sites slated for development, McComiskey helped protect ancient sites, learned to map (which soon evolved into an enthusiasm), and wrote environmental impact statements.
The job addressed her lifelong interest in the environment, in a way, but she yearned for something more impactful. "I was looking for a bridge to something else," she says.
That bridge appeared to McComiskey at Northern Arizona University, where she started in the interdisciplinary Quaternary studies program. (The Quaternary is the geologic period covering the last 1.6 million years, leading up to humankind's foothold on Earth.)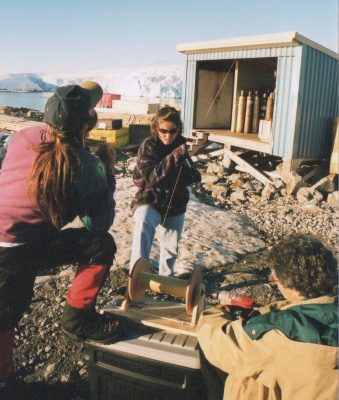 Scanning the course listings in her first week, she was intrigued by a class on remote sensing—the art of using satellite imagery to understand Earth's processes.
The course turned out to be so exciting, she says, that "after the first week, I knew that was it for me." From there, she set out on her life's journey, which pivots on finding ways to measure the processes behind how the Earth works.
The remote-sensing professor, G. Lenn Berlin, became her mentor, and McComiskey switched her master's degree studies to geography. She was soon wrapped up in a thesis project on the remote sensing of clouds and on the retrievals of cloud properties, especially over snow and ice surfaces.
Irradiance in Antarctica
By 1998, McComiskey had a new master's degree and fresh passion for satellite imagery, mapping, radiative transfer, and polar clouds. She took it all to a rigorously quantitative doctoral program in geography at the University of California, Santa Barbara.
Before long, a National Science Foundation grant got her to Antarctica. McComiskey's adviser, Catherine Gautier, a veteran of science at the Atmospheric Radiation Measurement (ARM) Climate Research Facility, has a deep interest in aerosols over the frozen continent. She sent her young protégé to Palmer Station on Anvers Island in far-western Antarctica to set up a Yankee Environmental Systems multifilter rotating shadowband radiometer for measuring aerosol optical depth.
McComiskey had entered Santa Barbara intending to finish work on a 3D radiation transfer model. Instead, she ended up writing a dissertation on surface irradiance in Antarctica. Levels of ultraviolet light in the region, she says, affect the single-celled organisms that live on the surface of the Southern Ocean, a biologically productive area influential to oceans worldwide.
McComiskey's PhD involved field work with Dan Lubin at the Scripps Institution of Oceanography. "I learned a lot from Dan's work ethic in the field," she says. "He was definitely a model for me."
Teaching, Boulder Days, Older Days
Even before finishing her PhD in 2003, McComiskey tried out a dream. "I loved teaching," she says. "I really thought I would stay in academia."
McComiskey gave that world a try during her graduate work with classroom stints at Northern Arizona University, Oxnard Community College, and at Santa Barbara. From 2002 to 2003, she was an assistant professor at Texas State University.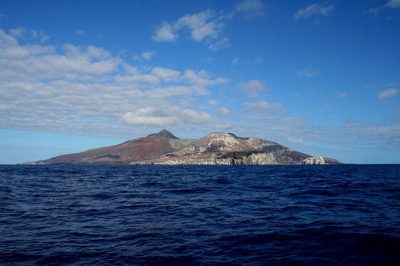 Then came the powerful call of radiative transfer in aerosols; the prospect of consequential research with ARM and ASR; and the centrality of NOAA to atmospheric science. It was all important to someone who, as a girl, fell in love with the natural world and who wanted to have an impact on understanding it.
From 2003 to 2014, with escalating roles of responsibility, McComiskey was a research scientist at the NOAA Earth System Research Laboratory, first in its Global Monitoring Division (2003 to 2008) and then in its Chemical Sciences Division (2008 to 2014). The experience took her from measurements to modeling, and brought her to the forefront of aerosols and their current importance to ARM, ASR, and DOE atmospheric research.
The present sometimes brings McComiskey fondly back to memories of those formative summer trips west, and to her curiosity-charged childhood in New Orleans, where she attended the all-girl Louise S. McGehee School from kindergarten through twelfth grade.
Back then, she says, "It never occurred to me there wasn't anything I couldn't do."
For more on McComiskey, read Part 1: Allison McComiskey Searches the Skies for Aerosol Answers.
# # #
This work was supported by the U.S. Department of Energy's Office of Science, Office of Biological and Environmental Research as part of the Atmospheric System Research Program.