When a Maritime Continent Gets in the Way
ASR scientists will gather data on Madden-Julian Oscillation events
Oregon storms and Sri Lankan cyclones bear a common signature—a cyclical churning of clouds and rain the size of Alaska called the Madden-Julian Oscillation (MJO). This slow-moving weather pattern travels from the Indian Ocean to the Pacific every 30 to 60 days, but sometimes weakens over an irregularly shaped barrier of marine islands called the Indo-Pacific Maritime Continent.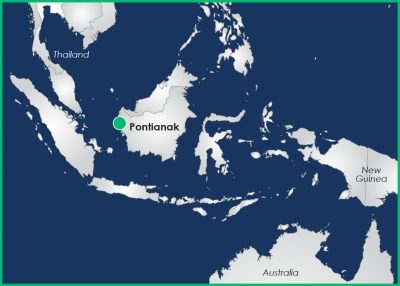 The Maritime Continent—Indonesia, Malaysia, New Guinea, the Philippines, and other islands with their companion slivers of sea—interrupts those MJO cloud convection systems. They weaken, stall, stop, or (in about 25 percent of cases) shoot past, undiminished, into the Pacific Ocean.
When the immovable Maritime Continent gets in the way of the moving MJO, it creates a barrier effect so different every time that scientists have problems modeling and predicting it.
That prediction barrier matters. The MJO gathers over the Indian Ocean in vast convective systems and moves slowly eastward, propagating storms and precipitation that significantly influence tropical meteorology and even global weather patterns.
The processes that govern the MJO present one of the major challenges in research on tropical weather and earth systems. That challenge is especially acute for the 400 million-plus people living on these islands that span, collectively, 1.17 million square miles. Modeling and prediction difficulties with the MJO limit to a week or so the forecasting window for tropical cyclones, heat waves, floods, and other hazards that take lives and cost money.
Starting this fall, a new field campaign conducted by the Atmospheric Radiation Measurement (ARM) Climate Research Facility, a U.S. Department of Energy (DOE) scientific user facility, may help unravel at least part of the problem of predicting the behavior of the MJO as it hits the barrier of the Maritime Continent and erratically scatters its energy.
Starting this September, the Diurnal Cycle Interactions with Madden-Julian Oscillation Propagation (DIMOP) field campaign will collect in situ data that will enable the investigation of a factor that may hold the key to improved predictive models by eliminating one uncertainty.
DIMOP will test the idea that the diurnal cycle of cloudiness associated with heat fluxes over island land masses controls the strength of the MJO and how it is disrupted. The campaign's hypothesis was first proposed in a 2016 paper led by ASR scientist Samson Hagos, DIMOP principal investigator and a scientist at Pacific Northwest National Laboratory.
# # #
This work was supported by the U.S. Department of Energy's Office of Science, Office of Biological and Environmental Research as part of the Atmospheric System Research Program.