'One of the Most Fun Things'
After a long and varied science career, ASR Program Manager Ashley Williamson is poised to move on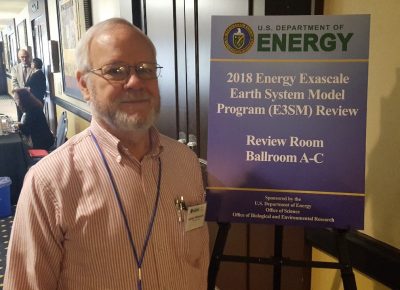 North of Columbus, Georgia, the hill country of the Piedmont plateau slopes southward into flat coastal terrain along the Chattahoochee River. Not far away are a series of deep chasms known as the state's "Little Grand Canyon."
It's pretty country, just across the river from eastern Alabama. There are pockets of terrain wild enough to inspire anyone growing up there to revere nature.
"I was fascinated by the order of the world, and still look at the creation around me with an awestruck eye," says Ashley Williamson, who grew up there in the 1950s, the son of an engineer father and a travel agent mother, and who later trained as a chemist. "I'm not an outdoorsman by nature, but being in a pristine environment: I love it."
He will retire June 29, leaving his post as a veteran program manager for the Atmospheric System Research (ASR) program at the U.S. Department of Energy (DOE).
"It has been one of the most fulfilling things I have done," says Williamson. "Being a program manager has many rewards."
You get to be a science research advocate, for one, extolling the merits of one project or another to those who make policy decisions.
"You not only get an inside view of your science niche," he says, "you get to influence it."
'Really Good People Tell You What Is Going On'
Program managers also get the "privilege of being aware of what is new," says Williamson, who before DOE had a long career in air-quality measurement technologies. "Really good people tell you what is going on and what they want to pursue."
Once in a while, he admits, "you can get together with other program managers and brag about your portfolio."
For Williamson and his co-equal ASR program manager, Shaima Nasiri, that portfolio includes about 50 active projects in the research world outside national laboratories, including interagency agreements. That accounts for about half of ASR's $28 million budget.
The other half of the portfolio covers something like 10 other research efforts at national laboratories, typically funded for three years, along with a few Science Focus Area (SFA) projects.
"He likes a balanced portfolio," said Nasiri, an expert in cloud and aerosol remote sensing who once taught atmospheric sciences at Texas A&M University. She calls Williamson a modest, steady presence in the corridor of DOE offices that program managers inhabit in Germantown, Maryland.
"I will miss Ashley—not just as a colleague but as a friend," she says. "He is incredibly open-minded," as well as adept at ASR paperwork, science, and project management.
OK, Nasiri also admits, "I will miss the accent too."
Finding Chemistry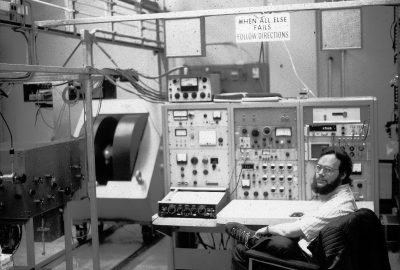 "I fell into being a chemist by default," says Williamson of his Columbus boyhood, adding that he was aware of being good in the classroom and of being inclined to the sciences.
In high school he skipped taking physics; took biology, but wasn't moved; and then had a chemistry course that, it can be said, changed his life.
To this day, as a physical chemist, Williamson says "the variety, and yet the order, of chemical phenomena have always been intriguing to me. Later, I got into the laboratory, got to synthesize some compounds, study them in instruments with knobs and blinking lights, and I was hooked."
As an undergraduate at Emory University in Atlanta, Williamson was "fortunate to get to do some active research" in chemistry, he says—and to do so well in his major that he was accepted into a PhD program at the prestigious California Institute of Technology (Caltech).
Caltech was a strong school that "focused on the best in science and technical education," says Williamson of getting there in the fall of 1968. It was small—with about 1,500 students in all, half of them graduate students who, he adds, "had some of the best in science supervising their research."
For the young man from Georgia, that best-in-science PhD advisor was Jesse L. "Jack" Beauchamp.
Eventually.
In 1969, Williamson was drafted out of graduate school, got what he called "a military master's degree as a consolation prize for not successfully fighting the draft," and ended up as an enlisted man assigned to the U.S. Army Chemical Center at Edgewood Arsenal in Maryland.
Resentful of the Army at first, Williamson says, "it benefited me later in life." It turned out that some areas of defense research would turn up later in his career, and that he would revisit the Edgewood labs later as a civilian researcher. More significantly, while stationed there he met his wife, Barbara, a Baltimore-area native.
Still, he says of the years 1969 to 1971, "I spent two years in the Army on vacation from graduate school."
'A Neat Place To Be at the Time'
By the fall of 1971, Williamson was back at Caltech, where he turned to research on gas-phase ion chemistry under Beauchamp's direction.
"Caltech was a neat place to be at the time," he says, and Beauchamp—only about five years his elder—turned out to be "an influential mentor. We have kept in touch over the years. Jack is one of the best I know at connecting insights from seemingly different areas of chemistry, and is tremendously creative. He is also a master at developing instrumental techniques, and I learned a lot from him."
Beauchamp, who is still at Caltech, remembers Williamson for his "combination of finesse and patience, both qualities that Ashley possessed in abundance."
After getting his physical chemistry PhD in 1975, Williamson was a postdoctoral fellow at Oak Ridge National Laboratory, where he ventured into laser spectroscopy and got involved in atomic and molecular physics research.
He worked there with Bob Compton on research funded by a predecessor of DOE's Biological and Environmental Research program.
Back South, Then Back East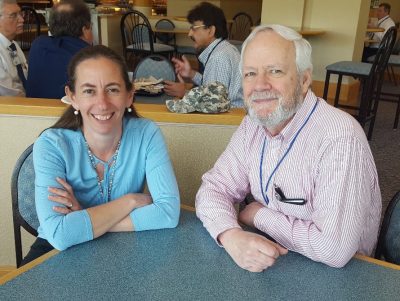 In 1979, Williamson took a job as a senior engineer and chemist at the Southern Research Institute. The nonprofit science research institute near Birmingham, Alabama, promotes and executes a broad range of research, from drug discovery, to biotechnology, to aerospace and defense applications.
While there, he focused on environmental measurements and led a group that that studied characterization and control of atmospheric aerosols. As what he calls a "soft money manager," he also had to develop skills for presenting research ideas to potential government and industrial funding sources.
His years there, Williamson says, "were varied and interesting. I learned a lot that was transferable to government."
In 2006, after parting with his job at the institute, he saw an ad for what was then DOE's Atmospheric Science Program (ASP), ASR's predecessor. He started that year.
"It was exhilarating to be involved in research on a much larger scale," he says. "But it seemed weird for years not to be in the lab myself."
Three years later, Williamson was instrumental in the transition to ASR, and the integration of the program with DOE's Atmospheric Radiation Measurement (ARM) user facility.
"I had a lot of learning to do," he says of his new role, "a lot of expanding my horizons."
By 2012, atmospheric physicist Sally McFarlane, an ARM and ASR veteran, was co-managing ASR with Williamson. (She is now ARM's program manager.)
"Ashley's really been a mentor for me here," she says. "He's been a great colleague. He definitely brings a calming influence."
Officially, the two still meet at biweekly meetings. But in reality, they often have lunch together, with Nasiri there too.
McFarlane calls him a central figure in the ASR program and its priorities. "The ASR program and its research outcomes in the last 12 years are really his legacy."
Day by Day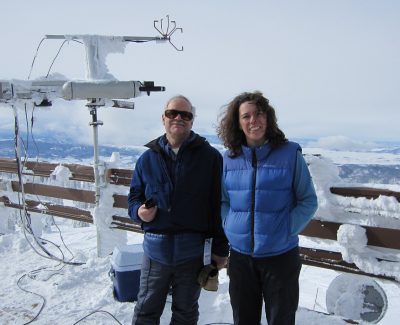 Williamson clearly relishes his role as program manager, which he describes as refreshingly varied.
First, there is all that time on the phone. A program manager, he says, interacts with several hundred people at any one time during a cycle of projects.
"On the other hand, one of the advantages of being a PM," says Williamson, employing the job name's shortcut, "is that people tend to want to make you happy."
Then there is all the paperwork (some of it "excruciatingly boring," he says); the packets of science information to compile for internal communications; and the requests for information from other agencies.
"It's complicated," says Williamson. "One week is not like another."
Add to all that the grant calls, selections, and reviews that pour in like a patch of whitewater. But there is a reward, he says of these early looks at proffered research ideas. "They're intense, but each one is different and fascinating."
A single grant call spans several months, from announcements to pre-applications, to processing up to a hundred grant applications in a month, and then matching them with reviewers. The latest call, says Williamson, involved 70 proposals and around 50 reviewers.
In all, being a program manager at ASR is a catbird seat, he says, a privileged vantage from which to observe a lot of amazing science and the people who produce it.
"I'm not a natural extrovert, but the people I meet are some of the most fascinating and neat folks," says Williamson. "Working with them, getting involved to some extent in their projects, seeing their students graduate and take early career jobs—it's all fascinating and rewarding."
Trends, and a Question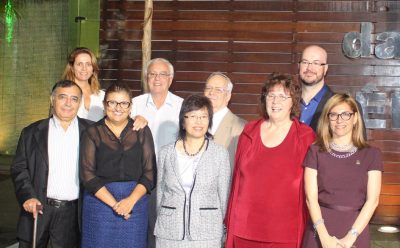 Overseeing research in climate science has changed over the last dozen years, Williamson says. "A decade ago, I can remember being asked even by other scientists if I thought climate change was for real, but the public attitudes were not hardened along political lines as I see today."
While he is glad to be involved in research that is relevant to the public, he is also grateful to be able to focus on producing solid science and not to be directly responsible for policy decisions.
The only thing he might have wished for at ASR is more professional travel.
Though Williamson has gotten out into the Rocky Mountain in winter during the Storm Peak Lab Cloud Property Validation Experiment (STORMVEX) in Colorado.
And he visited Brazil for the startup of ARM's Green Ocean Amazon (GoAmazon2014/15) campaign. He calls his time there, meeting his counterparts from agencies in Brazil and elsewhere, an exercise in "science diplomacy."
ARM sponsors field campaigns "essentially every year," says Williamson, but they are run by labs and principal investigators—a financial reality he readily accepts, even though "PMs don't get in on the fun."
What about fun after June 29?
Not so much, at first. "I'll have a lot of hands-on work," says Williamson, "even after I retire."
His days will be full as he and his wife prepare their Maryland house for sale before moving back to the one they still own in Birmingham.
In all, it will likely be months before he can hang out in a chemistry laboratory with his daughter, a Caltech chemistry PhD, or spend much time with his son, who teaches information technology.
As for losing interest in chemistry, says Williamson: "Is a scientist ever retired? I don't think so. That's why my mentors are still around."
# # #
This work was supported by the U.S. Department of Energy's Office of Science, Office of Biological and Environmental Research as part of the Atmospheric System Research Program.