Validating Single-Column Models with ARM Data
Somerville, R. C., Scripps Institution of Oceanography
General Circulation and Single Column Models/Parameterizations
Cloud Life Cycle
Iacobellis, S.F., McFarquhar, G.M., Mitchell, D.L., and Somerville, R.C.J., 2003: "The Sensitivity of Radiative Fluxes to Parameterized Cloud Microphysics," J. Climate 16(18): 2979-2996.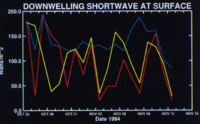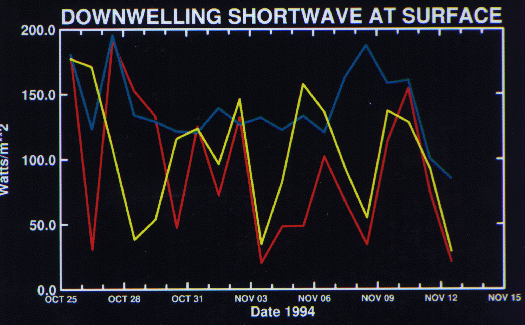 ---
Scientists validated the results of both models by comparing them with the solar radiation as measured by the ARM instruments in the same grid cell.
Scientists compared predictions of two models (red and blue lines) with measurements taken by ARM instruments (yellow line) at the same location. The models predict the amount and optical properties of clouds and the solar radiation reaching the earth's surface in a single grid cell, which covers a rectangular area of approximately 75,000 square kilometers (27,000 square miles).
The red model more nearly matches the measurements taken by ARM instruments; therefore, scientists can have more confidence in red's prediction for this time period and location.
The models, which are called single-column models because they represent one grid cell, are the building blocks of the general circulation models that predict global climate change. In time, much of the ARM data may help scientists validate single-column models.