Cloud-Top Humidity Inversions and the Maintenance of Arctic Mixed-Phase Stratocumulus
Solomon, A., NOAA- Earth System Research Laboratory

Cloud Distributions/Characterizations
Cloud Life Cycle
Solomon A, MD Shupe, PO Persson, and H Morrison. 2011. "Moisture and dynamical interactions maintaining decoupled Arctic mixed-phase stratocumulus in the presence of a humidity inversion." Atmospheric Chemistry and Physics, 11(19), 10.5194/acp-11-10127-2011.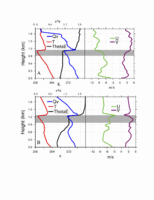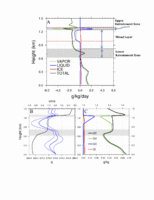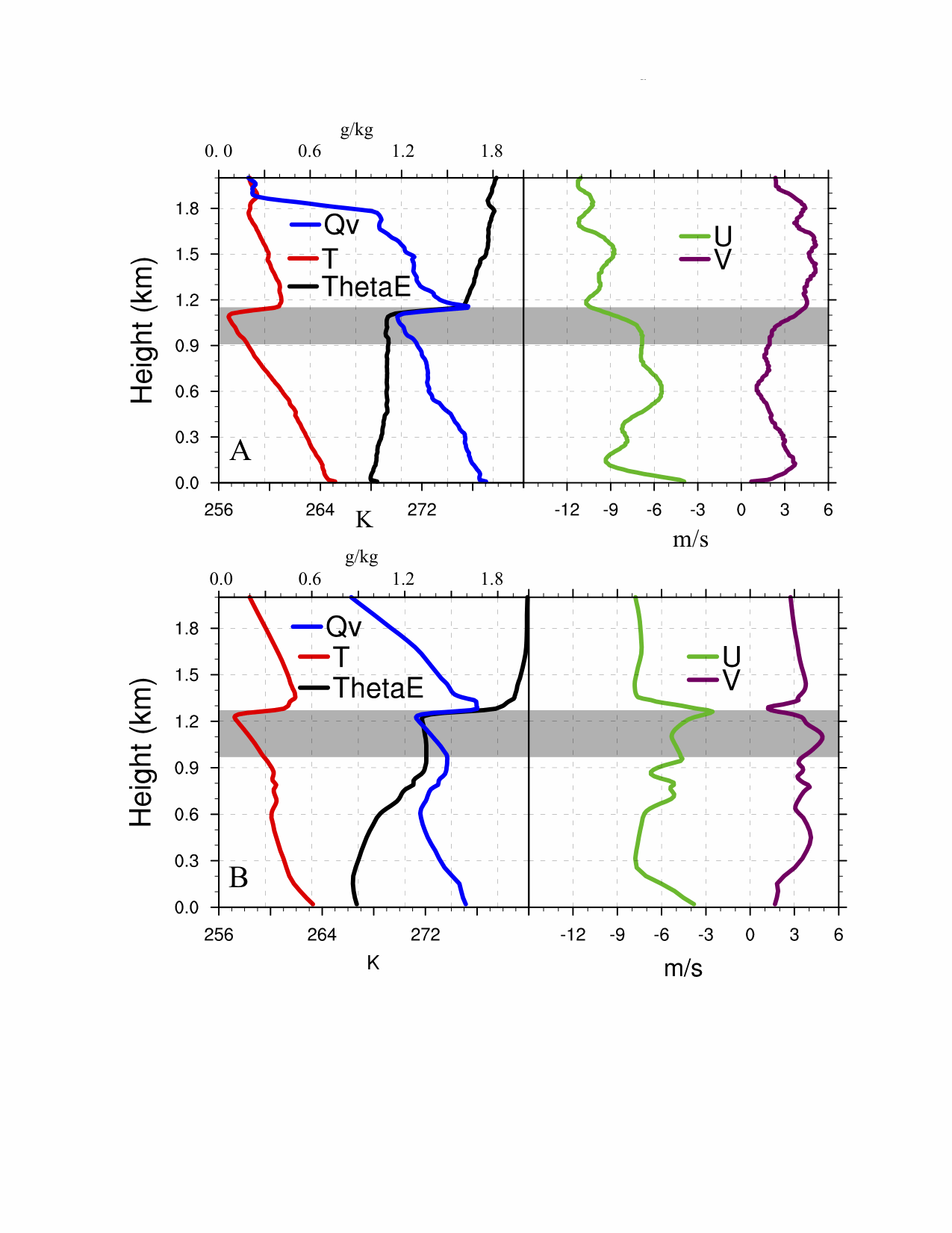 ---
Soundings of mid-day decoupled stratocumulus at Barrow, Alaska. (A) Measured 17:34Z 8 April 2008 at (71.33N,156.61W). (B) 50-m LES simulation 20Z 8 April 2008 at (71.33N,156.91W). Gray shading marks the extent of the cloud layer.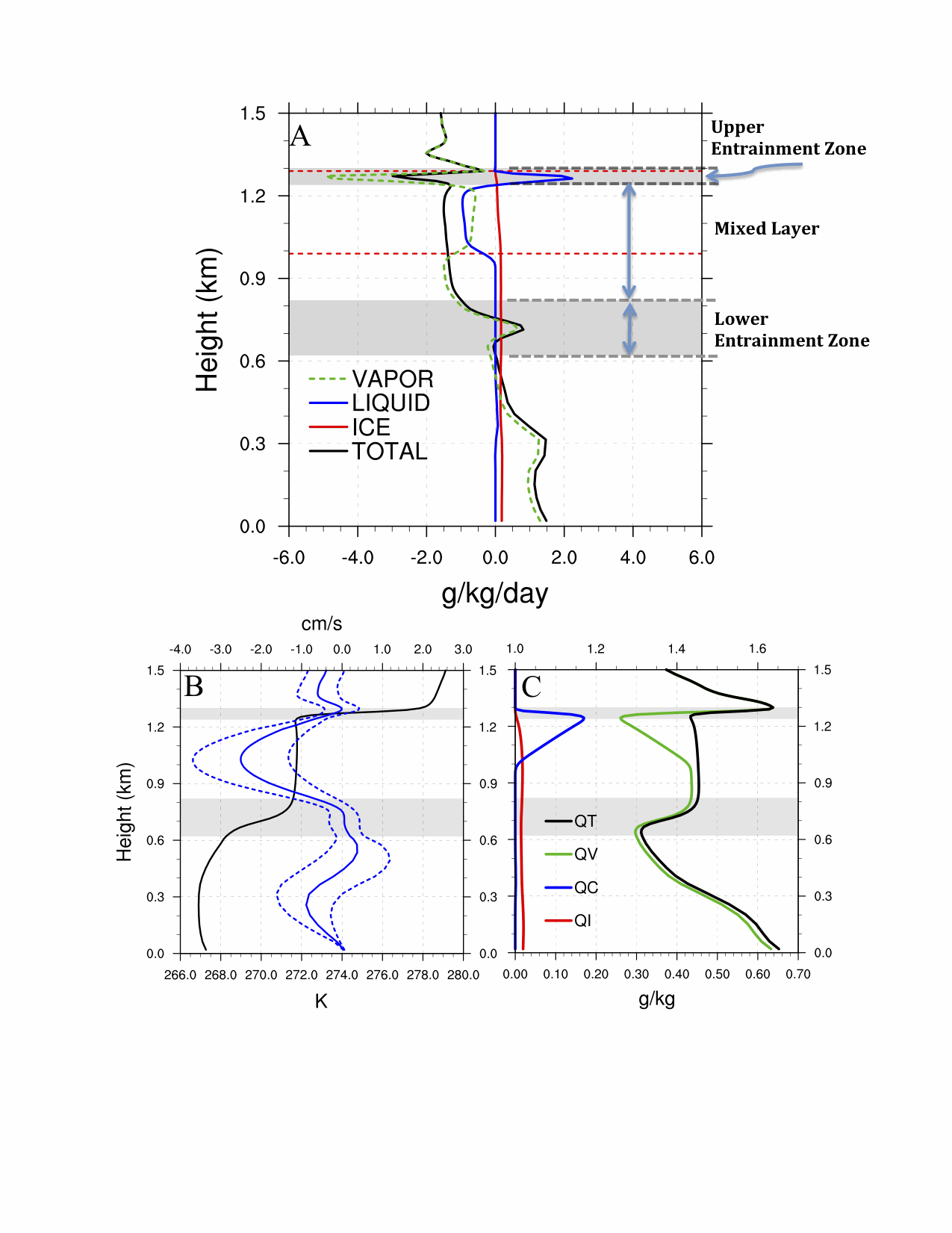 ---
(A) Cloud water, vapor, ice, and total water tendencies, in units of g kg-1 day-1. Positive (negative) indicates water gained (lost). Cloud layer top and base indicated by red dashed lines. (B) Mean resolved vertical velocity (blue, dash lines are +/- one standard deviation) and equivalent potential temperature in black, in units of cm s-1 and K, respectively. (C) Mean total water, cloud liquid water, cloud ice water, and water vapor, in units of g kg-1.
Arctic mixed-phase stratocumulus (AMPS) are observed to occur approximately 45% of the time on the North Slope of Alaska, with a significant increase in occurrence during spring and fall transition seasons (Shupe 2011). Due to the presence of liquid water in these clouds, they play an important role in determining the structure of the Arctic atmospheric boundary layer (ABL) and magnitudes of surface energy budget terms.
Observations indicate that the processes that maintain subtropical and Arctic stratocumulus differ due to the different environments in which they occur. For example, specific humidity inversions (specific humidity increasing with height) are frequently observed to occur coincident with temperature inversions in the Arctic (e.g., Curry et al. 1996, Tjernström et al. 2004, Sedlar and Tjernström 2009). In a recent study, Sedlar et al. (2011) surveyed data from the Surface Heart Budget of the Arctic Ocean (SHEBA) field campaign, the Arctic Summer Cloud Ocean Study (ASCOS) in the central Arctic Basin, and at Barrow, Alaska, to find that specific humidity inversions occurred 75–80% of the time when low-level clouds were present and that there was a significant relationship between the existence of specific humidity inversions and AMPS that extended into the temperature inversion, highlighting the difference between AMPS and subtropical stratocumulus where the entrainment of dry air aloft prevents cloud liquid water from forming in the temperature inversion.
In this study we examine many details of AMPS using results from nested large-eddy simulations of the DOE Atmospheric Radiation Measurement (ARM) Climate Research Facility's Indirect and Semi-Direct Aerosol Campaign (ISDAC, McFarquhar et al. 2011) \"golden day,\" 8 April 2008. The Weather Research Forecast (WRF) V3.1 model (Skamarock et al. 2008) is used with five two-way nested grids with horizontal grid spacings of 25 km, 5 km, 1 km, 200 m, and 50 m. The microphysical cloud scheme used in this study includes two-moments for cloud droplets, rain, ice, snow, and graupel (Morrison et al. 2009). In this model study, WRF is run with high enough resolution to resolve turbulent eddies that contain the most kinetic energy and transport the most heat and momentum, i.e. as an LES. However, different from traditional LESs, this study does not use periodic boundary conditions, eddies from the 200 m nest are advected into the 50 m nest, and variability with scales finer than 200 m evolve within the 50 m nest.
Comparing the environmental conditions to the west of Barrow at 20Z in the 50-m nest to the nearest-in-time sounding taken at Barrow at 17:34Z, it is seen that the LES simulates a well-mixed surface layer up to ~ 400 m and a second mixed layer associated with the cloud as in the sounding (Figure 1). The model simulates a cloud-top temperature inversion strength of 5 K and a humidity inversion of 0.4 g kg-1, similar to the sounding. Cloud water extends into the temperature inversion by approximately 50 m in both the LES and sounding. On average, the cloud water maximum is at the humidity inversion base and 23% of simulated cloud liquid water is located within the inversion.
Results of this nested LES study form a relatively simple conceptual model of decoupled AMPS where the essential structures and processes are:
A humidity inversion at cloud top provides a weak source of moisture to the cloud layer via entrainment caused by cloud-generated turbulence. This continual down gradient transport of water vapor into the cloud layer supports its persistence and represents a positive feedback.
The primary and necessary source of energy for the system is longwave radiative cooling at and near cloud top. Radiative cooling does at least two things: (1) forces direct condensation in non-buoyant parcels near cloud top that are inside the temperature and moisture inversions, and (2) forces turbulence and buoyancy-driven overturning of parcels within a cloudy mixed layer, with additional condensation occurring in updrafts.
Cloud ice depositional growth occurs primarily in the mixed layer in both updrafts and downdrafts, although slightly more in the latter.
The primary transport of total water from the entrainment zone into the mixed layer is via sedimentation of liquid water. Ice precipitation is the primary net sink of condensed mass from the cloudy mixed layer.