Scientists Uncover Combustion Mechanism to Better Predict Warming by Wildfires
Dubey, M. K., Los Alamos National Laboratory

Radiation Processes
Aerosol Life Cycle
Saleh R, E Robinson, D Tkacik, A Ahern, S Liu, A Aiken, R Sullivan, A Presto, M Dubey, R Yokelson, N Donahue, and A Robinson. 2014. "Brownness of organics in aerosols from biomass burning linked to their black carbon content." Nature Geoscience, 7(9), doi:10.1038/NGEO2220, 10.1038/ngeo2220.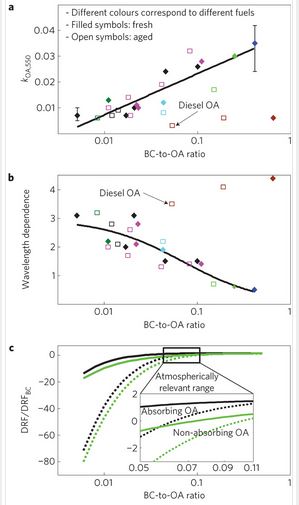 ---
a,b, Filled diamonds and open squares correspond to fresh and chemically aged emissions, respectively. Colours correspond to different fuels: black, black spruce; magenta, ponderosa pine; cyan, rice straw; forest green, organic hay; light green, saw grass; blue, wire grass; and brown, diesel. Whiskers represent upper and lower bounds (Supplementary Section 3). Black lines are least-squares fits to the biomass burning data: y = 0.016x + 0.03925, R-square = 0.734, for kOA,550 nm versus log10(BC-to-OA ratio), a and y = 0.2081/(x + 0.0699), R-square = 0.738, for w versus BC-to-OA ratio, b. c, Ratio of DRF of biomass burning emissions to DRF of biomass burning BC alone. Black lines use kOA values obtained in this study. Green lines assume non-absorbing OA (kOA = 0). Solid lines: coating thickness was held constant, and the concentration of externally mixed OA varied in the BC-to-OA ratio space; dotted lines: the fractions of internally and externally mixed OA were held constant at 50%, while the coating thickness varied.
Atmospheric particulate matter (PM) plays an important role in the Earth's radiative balance by interacting directly with solar radiation, or indirectly by acting as cloud condensation or ice nuclei. PM can exhibit negative climate forcing by enhancing scattering of solar radiation. However, over the past two decades, it has been established that a portion of PM, black carbon (BC), is a significant light absorber with positive climate forcing rivaling that of anthropogenic CO2. Although most climate models treat BC as the sole PM absorber, recent research has unveiled evidence of the potential contribution of some organic aerosol (OA) to light absorption. This OA, dubbed brown carbon (BrC), is mainly associated with biomass-burning emissions. Unlike pure BC, which has uniform and well-understood light absorption properties, BrC comprises a wide range of poorly characterized compounds exhibiting highly variable absorptivities, with reported values spanning two orders of magnitude. This complexity poses major difficulties in quantifying the impact of BrC on the global climate.
In this research, a collaborative team from Carnegie Mellon University, Los Alamos National Laboratory, and the University of Montana performed controlled laboratory experiments of the optical properties of particles emitted by globally important fuels. By exploiting the fact that the BrC absorbs more light at shorter wavelengths than BC, their contributions were separated. Thermodenuding studies were performed to remove the volatile components in order to investigate how this impacts absorption. Analysis revealed the least volatile fraction, that is likely to be transported globally, is much more light absorbing than the volatile fraction. This finding establishes the global significance of brown carbon aerosol.
In addition to demonstrating that biomass-burning BrC is associated mostly with extremely low-volatility organic compounds (ELVOCs), the study found that effective absorptivity of OA in biomass-burning emissions (as measured by the imaginary refractive index kOA in Figure 1) could be parameterized as a function of a single property of the emissions, namely the BC-to-OA ratio. These findings indicate that OA absorptivity depends largely on burn conditions (which dictate and are captured by the BC-to-OA ratio), not fuel type. This reduces the complexity of the problem of predicting OA absorptivity and develops a parameterization of OA optical properties from laboratory data for use in climate models.
Idealized comparisons using our laboratory data shown in Figure 1c show that BrC inclusion switch fire impacts from cooling (by OA) to warming. This suggests BrC in biomass-burning emissions can be a major player alongside BC in governing direct radiative forcing. The results enable accurate representation of light-absorbing PM (BC and BrC) to reduce the uncertainty in aerosol radiative forcing estimates, and consequently climate sensitivity, which is an essential climate factor required to calculate the evolution of global mean temperatures.