Finding the Causes for Consistently Low Biased Stratiform Rainfall in Models
Varble, A., Pacific Northwest National Laboratory

Cloud Processes
Cloud Life Cycle
Varble A, EJ Zipser, AM Fridlind, P Zhu, AS Ackerman, J Chaboureau, J Fan, A Hill, B Shipway, and C Williams. 2014. "Evaluation of cloud-resolving and limited area model intercomparison simulations using TWP-ICE observations: 2. Precipitation microphysics." Journal of Geophysical Research: Atmospheres, 119(24), 10.1002/2013jd021372.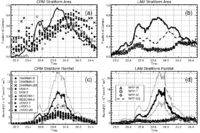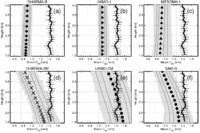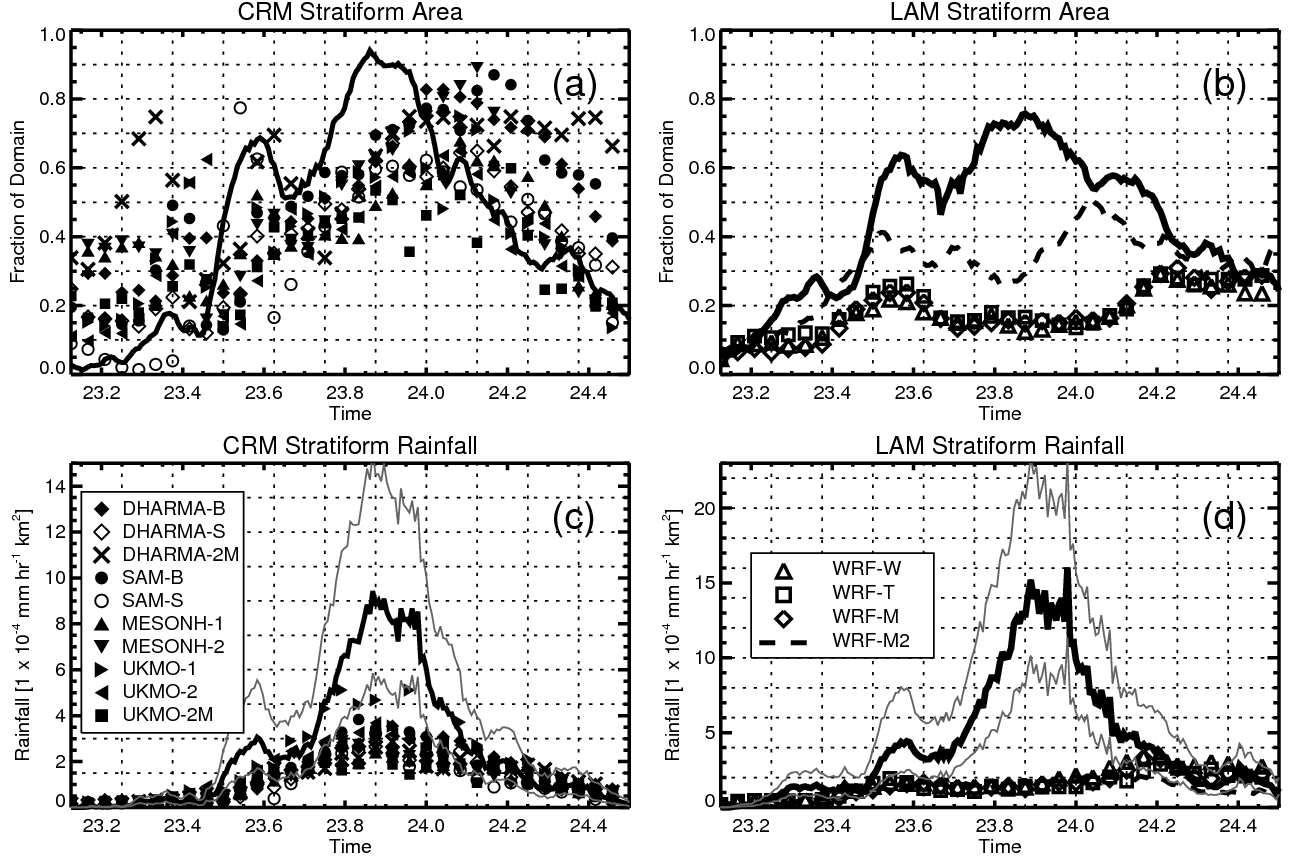 ---
The 33-hour time series of (a) CRM and (b) LAM stratiform area and (c) CRM and (d) LAM stratiform rainfall for the MCS event with stratiform regions defined using the Steiner et al. (1995) algorithm. Thick black lines depict C-band radar (CPOL) retrievals with gray lines showing uncertainty. Legends show symbols and lines corresponding to each simulation.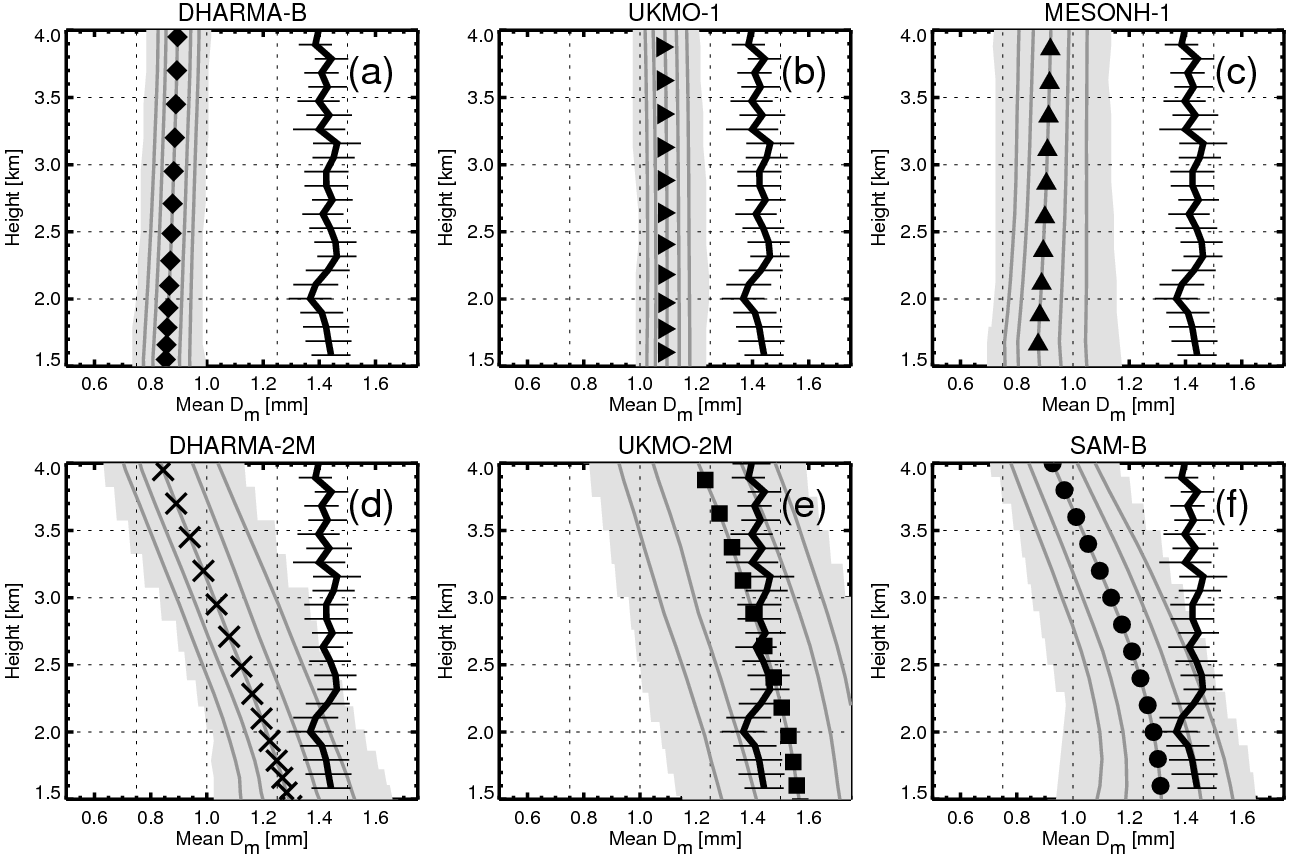 ---
Temporal mean stratiform rain mass-weighted mean diameter profiles for 6 CRM simulations and a multi-frequency profiler retrieval (solid black line). Simulations have distributions of profiles (gray filled) with 1st, 10th, 50th, 90th, and 99th percentiles overplotted. 1-moment schemes are used in (a-c) and 2-moment schemes in (d-f). A gamma shape parameter greater than 0 is used in (b). Profiler values are ~0.2 mm greater than more representative scanning radar retrievals at 2.5 km altitude.
The amount of convective relative to stratiform rainfall in a mesoscale convective system is important because it significantly impacts the distribution of heating and moistening. This study, the second of a two-part study, compares output from ten cloud-resolving model (CRM) and four limited area model (LAM) simulations of active monsoonal tropical convection during the Tropical Warm Pool – International Cloud Experiment to scanning radar, multi-frequency vertical profiler, and disdrometer retrievals of stratiform rain properties in an attempt to explain low biased stratiform rainfall in both setups.
Two-moment schemes do not outperform one-moment schemes because high relative humidity limits excessive evaporation commonly associated with one-moment schemes. However, the dispersion (μ) of the rain gamma size distribution, which affects hydrometeor fall speeds, evaporation, and convective-stratiform separation, did impact results. Simulations using μ = 2.5 for rain produce the best agreement with stratiform rain retrievals, while one-moment simulations using μ = 0 produce too many small raindrops, and two-moment simulations using μ = 0 produce excessive size sorting. Both can be partially solved by increasing the value of µ in agreement with observational studies.
Stratiform Doppler velocity is close to observed in some two-moment simulations and over-predicted in others, but rain water content is under-predicted, whereas rain water content is close to observed in several one-moment schemes, but Doppler velocity is under-predicted. These results collectively show that not enough rain exists just below the melting level, which indicates that stratiform ice water content is under-predicted just above the melting level. Simulated deep updrafts are too strong, which leads to too much detrainment in the upper troposphere above 10 km. Weaker convection would shift detrainment of buoyancy and moisture to lower altitudes, decrease stratiform sublimation and downward motion above the melting level, and increase stratiform precipitation. Additionally, the CRM simulations with periodic lateral boundary conditions are not able to resolve mesoscale circulations on the scale of their domain size that amplify stratiform updrafts, while low biased relative humidity limits stratiform area in the LAM simulations.
Realistic simulation of stratiform rainfall is clearly dependent on choosing a sufficient model setup, providing suitable large-scale conditions to the model, and simulating realistic interactions between convective updraft dynamics and microphysics. Without extensive observations of mesoscale environmental variability and accurate measurements in and around the convective systems being simulated, it is difficult to separate the relative contributions to biases from these three sources.