On the Impacts of Different Definitions of Maximum Dimension for Nonspherical Cloud Particles
Wu, W., University of Oklahoma

Cloud Distributions/Characterizations
Cloud Life Cycle
McFarquhar GM and W Wu. 2016. "On the impacts of different definitions of maximum dimension for nonspherical particles recorded by 2D imaging probes." Journal of Atmospheric and Oceanic Technology, 33, 10.1175/jtech-d-15-0177.1.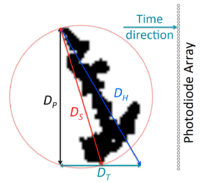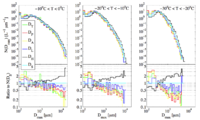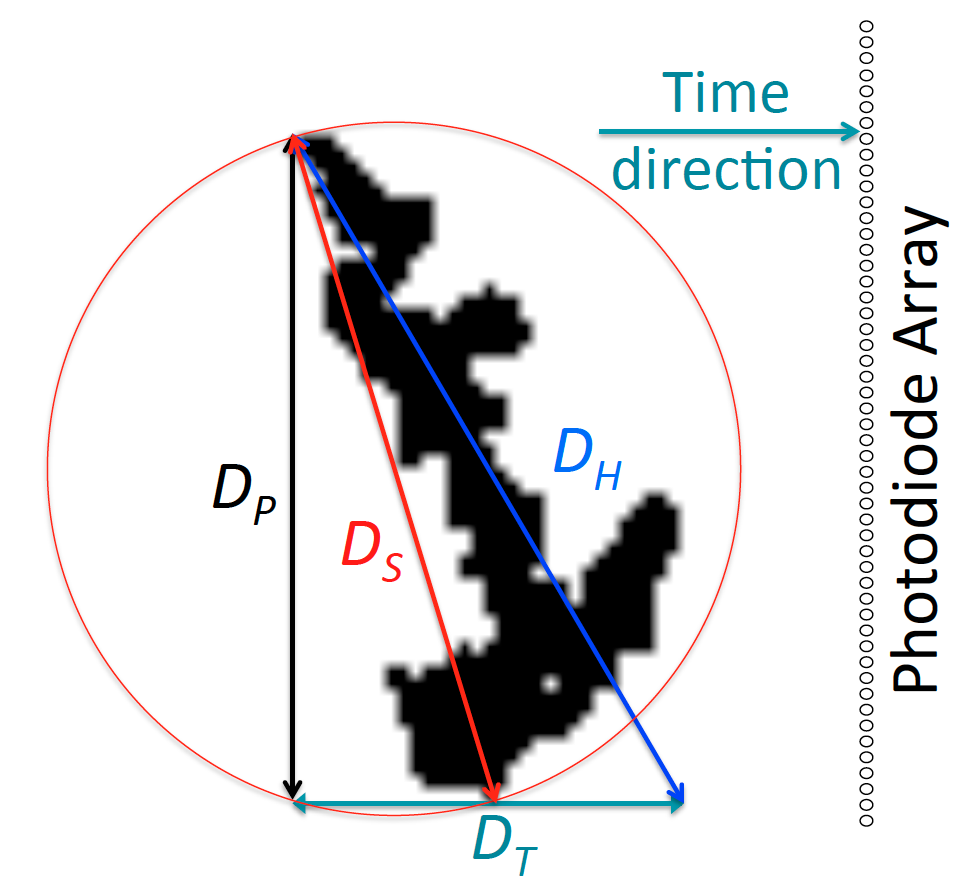 ---
Schematic of four commonly used definitions of Dmax (denoted DT , DP , DH , and DS) for an ice particle captured by the HVPS during MC3E. Two other definitions for Dmax are not shown in the figure, DA which is the mean of DT and DP, and DL which is the larger of DT and DP.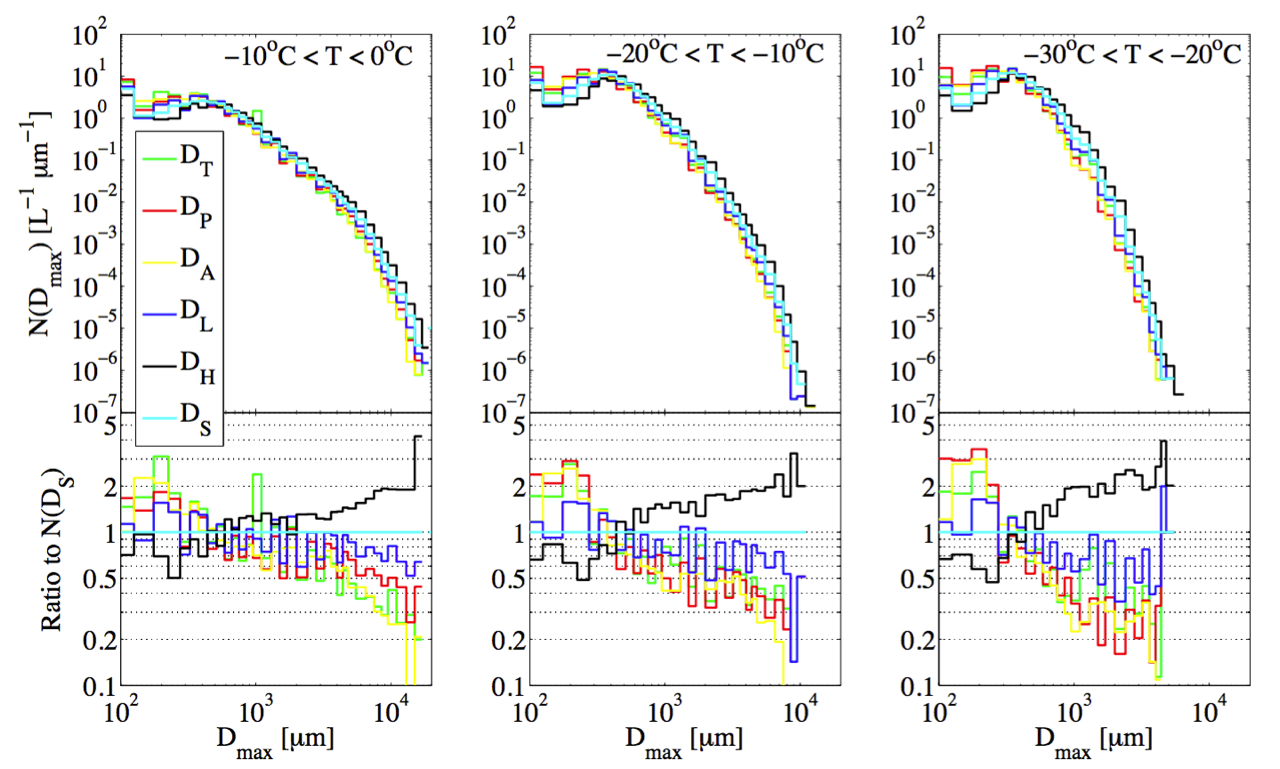 ---
(top) N(Dmax) as function of Dmax using six different definitions of Dmax, and (bottom) the ratio of N(Dmax)/N(DS) for Dmax=DT, DP, DA, DL and DH as indicated in the legend using data acquired in a meso-scale convective system on 20 May 2011. Different panels show averages for the following temperature ranges: (a) -10C < T < 0C, (b) -20C < T < -10C, and (c) -30C < T< -20C.
Science
Knowledge of ice crystal particle size distributions (PSDs) is critical for development of microphysical parameterization schemes for numerical models and remote-sensing retrieval algorithms. Two-dimensional in situ images captured by cloud-imaging probes on aircraft are widely used to derive PSDs in term of maximum particle dimension (Dmax). However, inconsistencies in the definition of Dmax used in the processing of cloud-imaging probe data can lead to large differences in the derived PSDs and bulk cloud properties (e.g., total mass content and extinction). In this study, uncertainties induced by varying definitions of Dmax are quantitatively determined.
Impact
Wu and McFarquhar (2016) compared the PSDs and bulk properties derived from six commonly used definitions of Dmax (as shown in Fig. 1) using ice-particle image data collected during the Mid-Latitude Continental Convective Clouds Experiment. The derived PSDs differed by up to a factor of 6 for Dmax < 200 μm and Dmax > 2 mm (Fig. 2) as caused by a strong dependence of probe sample volume on particle size for small particles and by inadequate counting statistics for large particles. Derived bulk properties also varied because of discrepancies in the definition of Dmax used to characterize the PSDs and that used to describe the properties of individual ice crystals. For example, the mass-weighted mean diameter varied by a factor of 2, the ice water content by a factor of 3, and the mass-weighted terminal velocity by a factor of 6.
Summary
A consistent definition of Dmax should be used to characterize PSDs and single-particle properties in the future. The diameter of the smallest circle enclosing the particle is recommended as the optimal definition since it is invariant with respect to the orientation of particles in the imaging plane for two-dimensional probes, and could be potentially extended to three dimensions if the three-dimensional structure of a particle is observed in the future.