Dependence of Entrainment in Shallow Cumulus Convection on Vertical Velocity and Distance to Cloud Edge
Kuang, Z., Harvard University
Cloud Processes
Cloud Life Cycle
Tian Y and Z Kuang. 2016. "Dependence of entrainment in shallow cumulus convection on vertical velocity and distance to cloud edge." Geophysical Research Letters, 43(8), 10.1002/2016gl069005.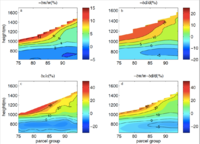 ---
Percentage change in (a) vertical velocity, (b) distance to cloud edge, and (c) fractional entrainment rate ϵ diagnosed from the model. The sum of the percentage changes in vertical velocity and in distance to cloud edge with the sign reversed, is shown in (d).
Science
How entrainment rates of shallow cumuli depend on environmental conditions is quantified by applying a novel Lagrangian tracking analysis on the response of shallow cumuli to an imposed small large-scale temperature perturbation, leading to a simple formulation that relates entrainment rates to vertical velocity and distance to cloud edge (or cloud size).
Impact
This research provides process-level guidance on formulations of entrainment rates in convective parameterizations.
Summary
The dependence of entrainment rate on environmental conditions and cloud characteristics is investigated using large-eddy simulations (LES) of the response of shallow cumulus convection to a small-amplitude temperature perturbation that is horizontally uniform and localized in height. The simulated cumulus fields are analyzed in the framework of an ensemble of entraining plumes by tracking a large number of Lagrangian parcels embedded in the LES and grouping them into different plumes based on their detrainment height. The results show that fractional entrainment rate per unit height of a plume is inversely proportional to its vertical velocity and its distance to the cloud edge, while changes in environmental stratification and relative humidity, the plume's buoyancy, or the vertical gradient of its buoyancy due to the temperature perturbation have little effect on the plume's entrainment rate.