Controls of Precipitation in the Amazonian Dry Season
Ghate, V. P., Argonne National Laboratory
Cloud Processes
Convective Processes
Ghate VP and P Kollias. 2016. "On the Controls of Daytime Precipitation in the Amazonian Dry Season." Journal of Hydrometeorology, 17, 10.1175/jhm-d-16-0101.1.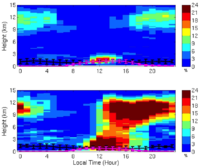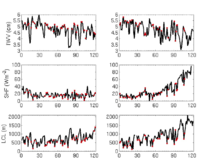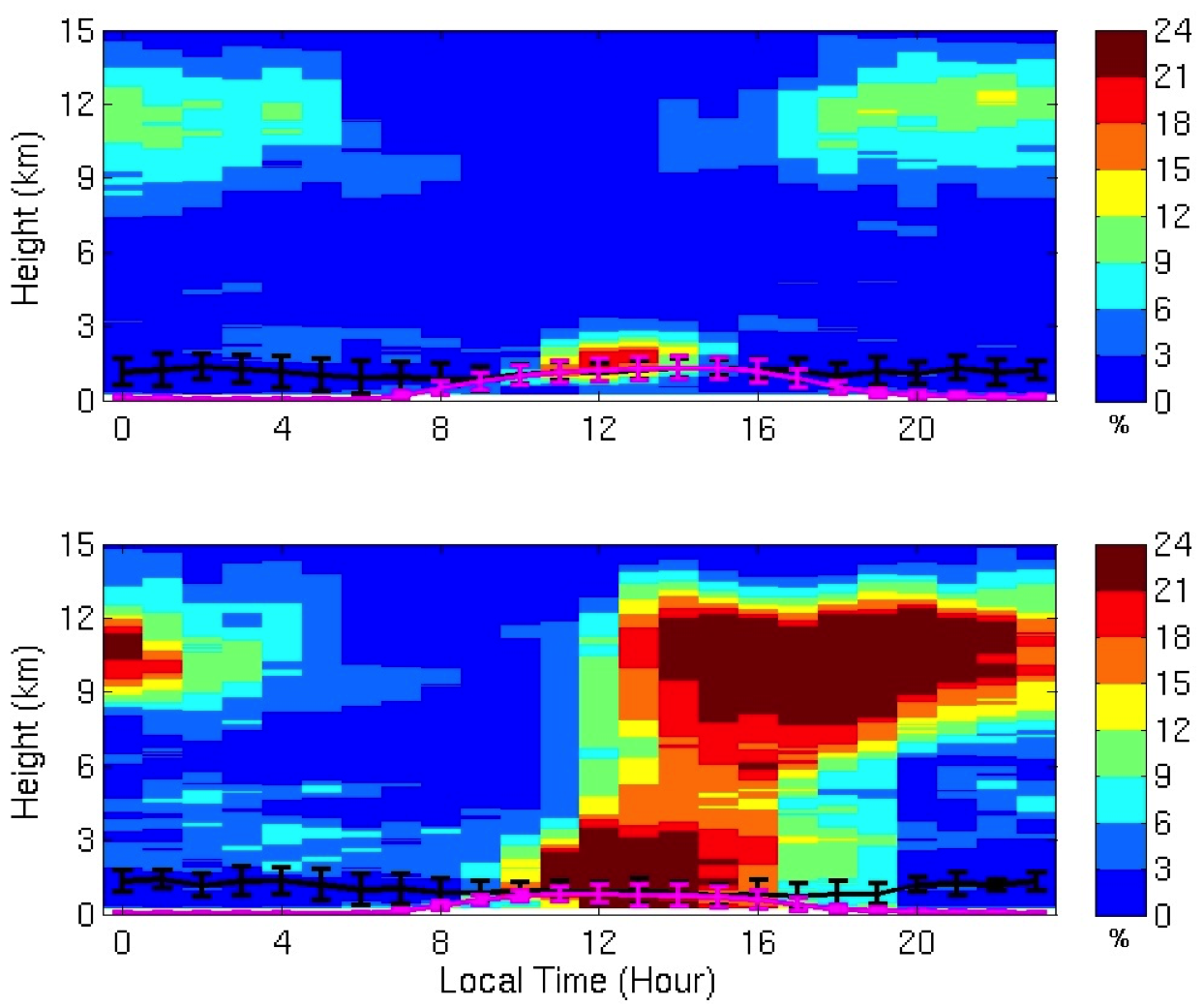 ---
The diurnal cycle of hydrometeor fraction during non-rainy cumulus days (top) and during rainy days (bottom) as reported by the combined observations of vertically pointing radar and lidars. The black line depicts the first cloud base height, while the magenta line shows the lifting condensation level (LCL). The nighttime cloud cover was higher during rainy days than during non-rainy days.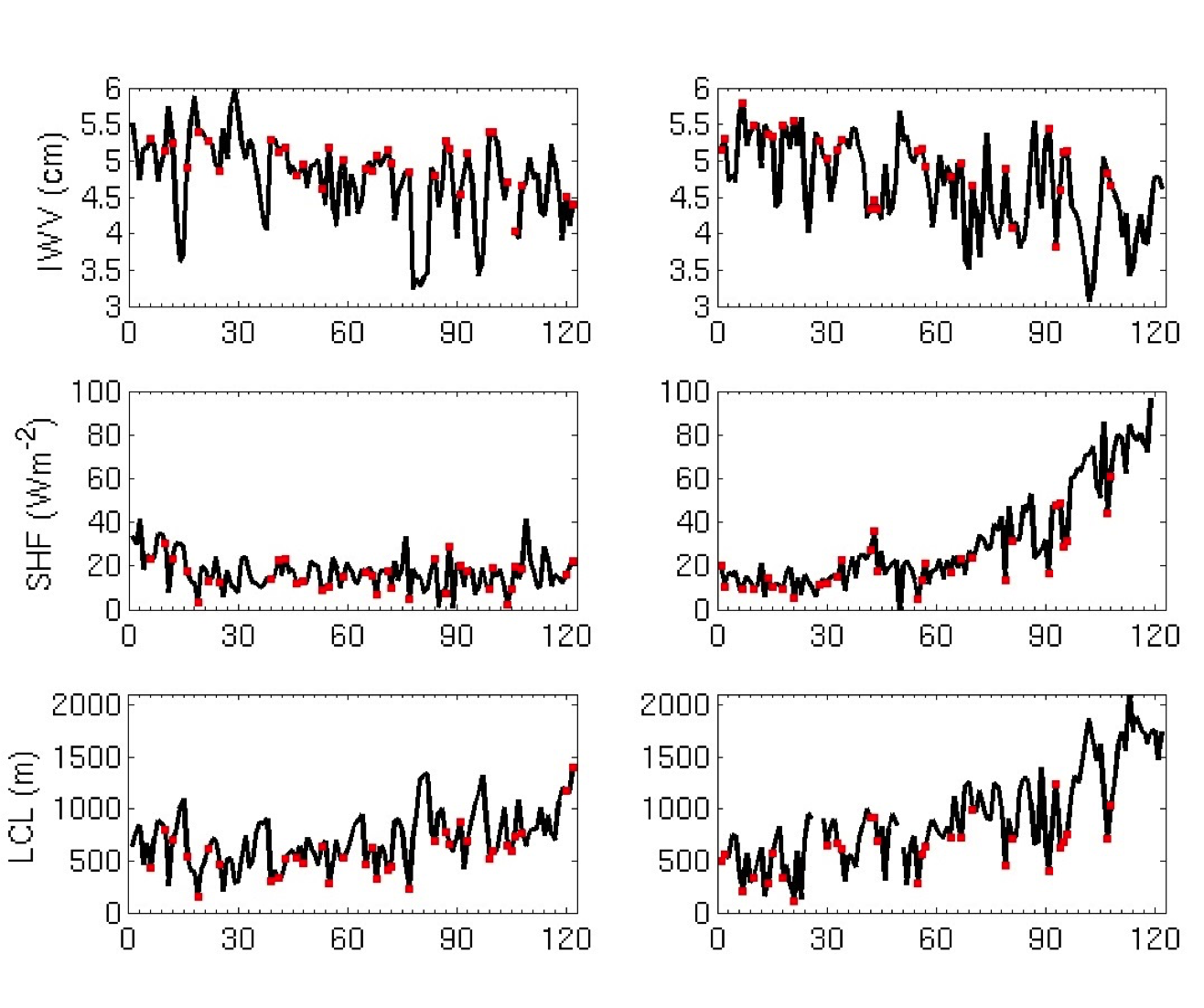 ---
Daily averaged values for column water vapor (top panels), sensible heat flux (middle panels), and lifting condensation level (bottom panels) for the year 2014 (left panels) and 2015 (right panels). The red dots indicate days that had daytime (local) precipitation. Most of the days with rain had higher values of column water vapor, lower values of sensible heat flux, and lower values of LCL.
Science
The health and extent of the Amazon rainforest critically depends on the precipitation received during the dry season. Our analysis suggests that the daytime precipitation during the dry season occurs during days with higher moisture content at low and mid-levels, while the total rainfall received during the dry season is primarily determined by the propagating storm systems.
Impact
The control of daytime precipitation during the dry season on the presence of moisture in the lower atmosphere, and the total rainfall on propagating squall lines, suggest that coarse-resolution models should be able to accurately simulate the dry season precipitation over the Amazon basin.
Summary
The Amazon rainforest plays an important role in the global energy and hydrologic cycle, with the extent of the rainforest critically dependent on the precipitation received during the dry season. With various degree of variability, most of the global climate models (GCM) forecast the dry season to get longer and drier in the future. In this study, we have used the data collected during the Green Ocean Amazon 2014/15 (GOAmazon2014/15) field campaign to determine the factors controlling the precipitation during the Amazonian dry season. Precipitation during the daytime results from the local land-atmosphere interactions, while that at night is associated with propagating storm systems. Detailed comparisons between days with and without daytime precipitation suggested the increased moisture at low- and mid-levels to be responsible for lowering the lifting condensation level, reducing convective inhibition and entrainment, and thus triggering the transition from shallow to deep convection. Although the monthly accumulated rainfall decreased during progression of the dry season, the contribution of daytime precipitation to it increased, suggesting the decrease to be mainly due to reduction in propagating squall lines. Broadly, our analysis suggests the control of daytime precipitation to be on large-scale moisture, while the control of total precipitation to be on propagating storms.