Estimation of Depolarization Ratio Using Modern Dual-polarization Weather Radars
Ryzhkov, A., NOAA - National Severe Storms Laboratory
Cloud Processes
Convective Processes
Ryzhkov A, S Matrosov, V Melnikov, D Zrnic, P Zhang, Q Cao, M Knight, C Simmer, and S Troemel. 2017. "Estimation of Depolarization Ratio Using Weather Radars with Simultaneous Transmission/Reception." Journal of Applied Meteorology and Climatology, 56(7), doi: 10.1175/JAMC-D-16-0098.1.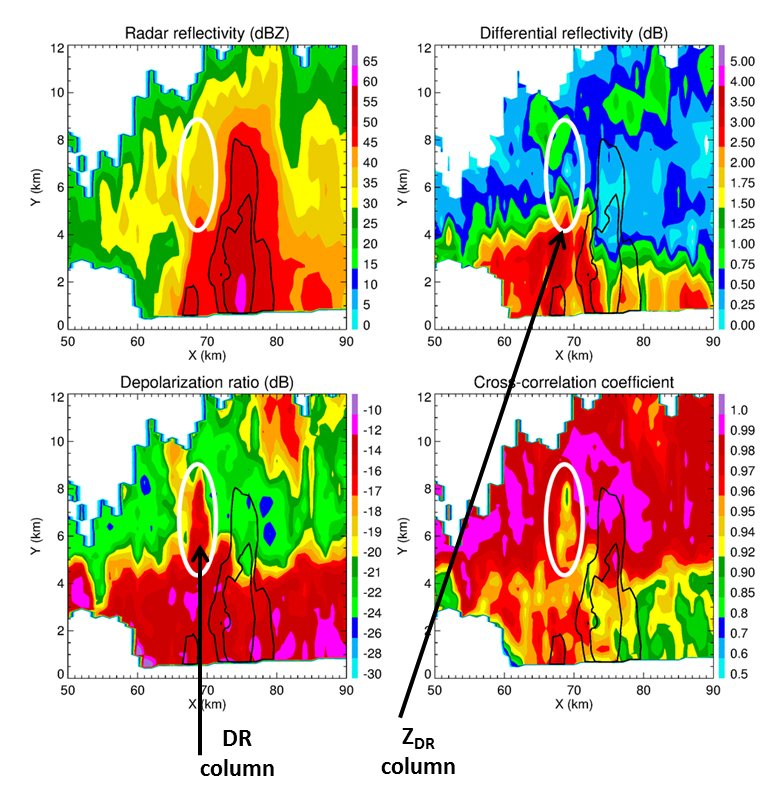 ---
Composite plot of radar reflectivity factor Z, differential reflectivity ZDR, depolarization ratio DR, and cross-correlation coefficient ρhv in the vertical cross-section through a hailstorm. White oval encloses a convective updraft of a newly developing convective cell. The DR vertical column yields much better representation of the convective updraft then the traditional ZDR column.
Science
Depolarization ratio (DR) was historically the first polarimetric radar variable measured by dual-polarization weather radars. However, this important variable is not measured by modern radars with simultaneous transmission/reception of orthogonally polarized waves. A new technique allowing for estimating DR on a fleet of scanning dual-polarization ARM radars is suggested.
Impact
This technique, if implemented on a fleet of scanning dual-polarization radars used in the ASR Program and ARM Facility, will greatly enhance their utility for microphysical characterization of clouds and precipitation
Summary
A special signal-processing routine combined with the use of a high-power phase shifter makes it possible to measure DR without compromising measurements of other polarimetric variables. The feasibility of the recommended approach has been demonstrated using observations with S, C, and X-band dual-polarization weather radars. Among potential applications, four major challenging practical tasks can be addressed using DR measurements: 1) identification and quantification of deep convective updrafts, 2) detection of hail and determination of its size above the melting layer, 3) discrimination between various habits of ice aloft, and 4) identification and quantification of riming processes associated with the presence of supercooled cloud water.