Ice Formed by Contact Freezing: Pressure Matters, Not Just Temperature
Shaw, R. A., Michigan Technological University
Cloud Processes
High Latitude Processes
Yang F, O Cruikshank, W He, A Kostinski, and R Shaw. 2018. "Nonthermal ice nucleation observed at distorted contact lines of supercooled water drops." Physical Review E, 97(2), 023103, doi:10.1103/PhysRevE.97.023103.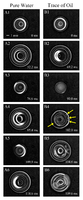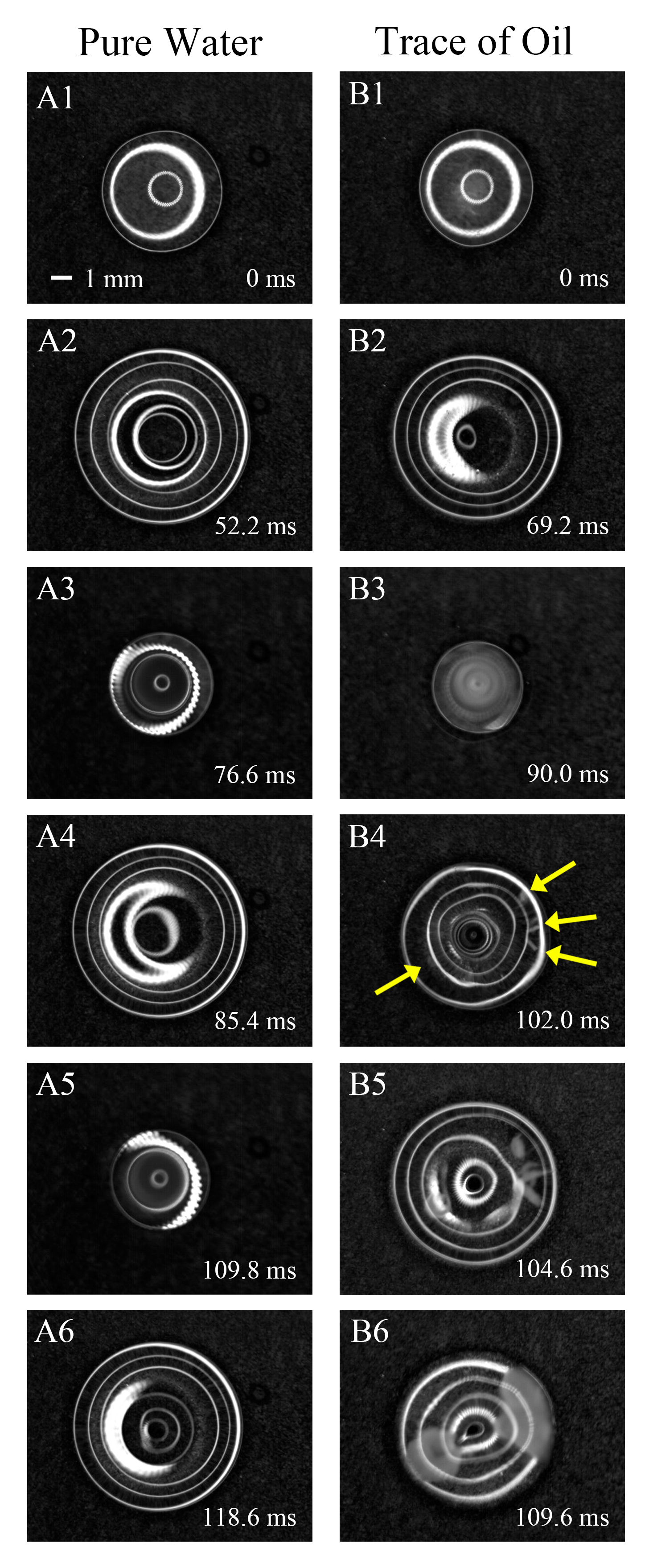 ---
Individual video frames, taken with the high-speed camera (5000 frames per second), showing pure water (left) and water with a trace (10 mg/mL) of pump oil (right) at different stages of oscillation on a silica glass substrate. A1 and B1 represent the state before oscillation. Frames B4, B5, and B6 show how ice nucleates at the edge and how it propagates inward. Yellow arrows point out the multiple ice nucleation sites.
Science
The freezing of supercooled water can be triggered at unusually high temperatures, by agitating and deforming the water surface. It has long been observed that "contact" of supercooled water with a dry aerosol particle can cause efficient freezing, and the new observations suggest that this may be due to pressure changes resulting from the contact.
Impact
Computer models of cloud formation and growth depend on our understanding of whether water should be a liquid or ice at a given temperature. These new results imply that in addition to temperature and aerosol material properties, it may be important to know about dynamic properties that influence the water surface.
Summary
The formation of ice in clouds influences precipitation rate, large-scale cloud motions, and cloud optical properties. Much of the ice formation in the atmosphere is a result of catalysis by ice-nucleating particles, and the many different types of ice-nucleating materials are usually characterized by the temperature at which they trigger freezing. A long-standing mystery is the observation that supercooled water droplets freeze at a higher temperature when an ice-nucleating particle impacts the water surface (contact nucleation), compared to the same particle being immersed in the droplet (immersion nucleation). These results show that ice nucleation initiated by mechanical agitation is strongly related to the moving and distorted three-phase contact line, suggesting pressure perturbations as a cause.