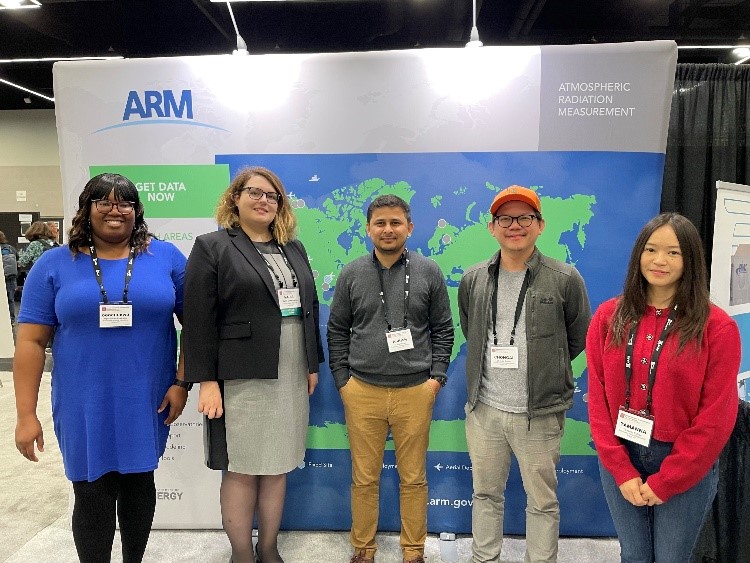 ARM and ASR join researchers from around the globe for 5 days of aerosol-focused presentations, symposia, and plenary lectures
The American Association for Aerosol Research (AAAR) returned to Portland, Oregon, for its 41st annual conference, held October 2 to 6 at the Oregon Convention Center.
This was the first year that the Atmospheric Radiation Measurement (ARM) user facility hosted an in-person exhibit at the conference, which drew more than 700 aerosol science students, researchers, and industry professionals.
Approximately 140 visitors stopped by the ARM exhibit, where representatives shared introductions to ARM capabilities and recent and upcoming field campaigns. Visitors also received instructions for accessing ARM's freely available data.
ARM and ASR Communities Well Represented
Nicole Riemer, a professor and aerosol modeler at the University of Illinois Urbana-Champaign, kicked off this year's AAAR conference—the first in Portland since 2019—by presenting the opening plenary lecture. Riemer, an ARM data user who also serves as co-chair for the U.S. Department of Energy's Atmospheric System Research (DOE ASR) program's Aerosol Processes Working Group, spoke about the role that particle-resolved modeling fills within the hierarchy of aerosol models.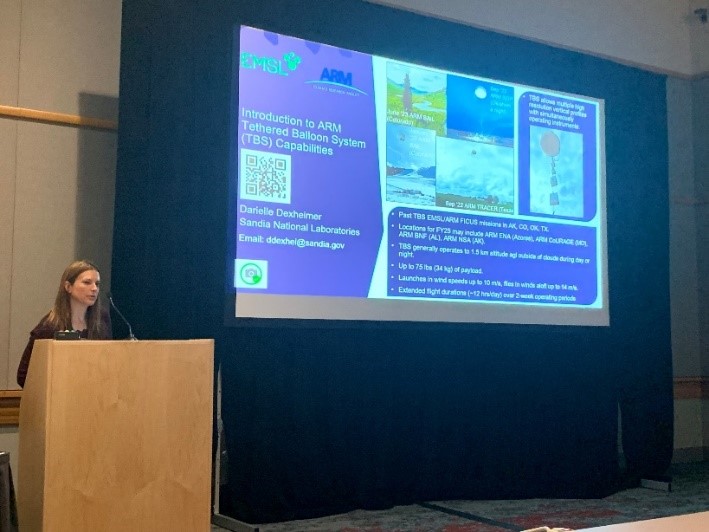 Collaborative research opportunities between ARM and the Environmental Molecular Sciences Laboratory (EMSL) were the focus of an informational lunchtime session. ARM tethered balloon system (TBS) capabilities and field campaign deployments were highlighted during the session.
Featured speakers included Dari Dexheimer, an atmospheric scientist at Sandia National Laboratories in New Mexico who manages ARM's TBS flights; Maria Zawadowicz, an assistant environmental scientist at Brookhaven National Laboratory in New York; and Paul DeMott, a recently retired Colorado State University senior research scientist.
ARM and EMSL—both DOE Office of Science user facilities—annually accept collaborative research applications through the Facilities Integrating Collaborations for User Science (FICUS) program. Information on new FICUS/TBS calls will be coming this winter.
Measurements obtained from ARM's Southern Great Plains (SGP) atmospheric observatory in Oklahoma were the focus of a technical session presentation led by Bri Dobson, a recent DOE Office of Science Graduate Student Research awardee from the University of Colorado Boulder. Dobson's presentation discussed the chemical and physical conditions that contribute to new particle formation and growth at the SGP.
ARM Deployments Featured During Poster Sessions
Brookhaven Lab atmospheric scientist Chongai Kuang presented a poster detailing ARM's forthcoming Bankhead National Forest (BNF) observatory in northern Alabama. The BNF is expected to begin operations in late 2023 and run for at least five years. It will aim to improve the understanding and model representation of coupled aerosol, cloud, and land-surface processes by using long-term observations to account for seasonal to annual variability. Kuang is the site science team lead for the BNF observatory.
Aerosol composition and characterization data from ARM's TRacking Aerosol Convection Interactions ExpeRiment (TRACER) were featured prominently in the AAAR poster hall. Zawadowicz presented her poster describing the seasonal characteristics of boundary-layer aerosols sampled during the campaign, which operated from 2021 to 2022 around Houston, Texas. TRACER collected convective cloud observations over a broad range of environmental and aerosol conditions with a goal of assisting researchers to better represent deep convection in multiscale models.
Nurun Nahar Lata, a postdoctoral research associate at EMSL and Pacific Northwest National Laboratory in Washington state, spoke to her poster detailing the composition of aerosols sampled during a series of TBS flights over Crested Butte Mountain in Colorado as part of ARM's 2021–2023 Surface Atmosphere Integrated Field Laboratory (SAIL) field campaign. By combining ARM atmospheric measurements with existing surface and subsurface data from the Upper Colorado River Basin, SAIL aimed to provide researchers with an atmosphere-through-bedrock understanding of mountainous water cycles.
Dongli Wang, a graduate student at Clemson University, used data obtained from the Southern California Interactions of Low cloud and Land Aerosol (SCILLA) experiment to help characterize the nature of black carbon aerosols off the coast of Southern California in her poster. SCILLA, a project jointly funded by ASR and the Office of Naval Research, ran in coordination with ARM's Eastern Pacific Cloud Aerosol Precipitation Experiment (EPCAPE), an ongoing campaign that is collecting data on the indirect effects of aerosols on stratocumulus clouds in La Jolla, California.
In Closing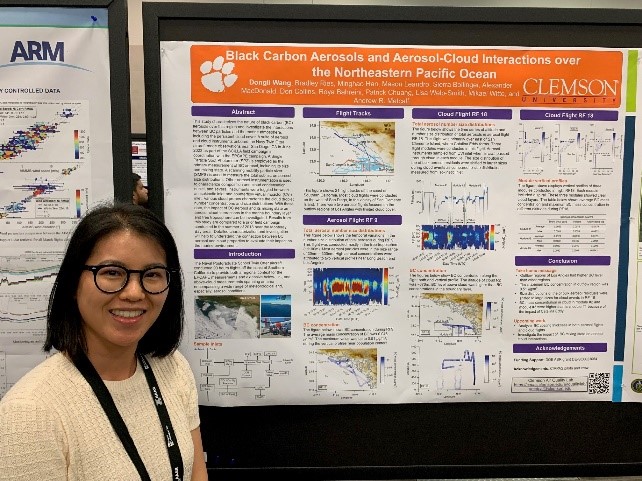 If you missed AAAR 2023, you can browse presentation and poster abstracts on the conference agenda web page. Conference presenters can upload a PDF of their poster or presentation slides to the abstract collection website (login is required). Sharing these materials with colleagues helps to increase the visibility and impact of your research.
Looking to attend next year? AAAR 2024 will be held from October 14 to 18 in Albuquerque, New Mexico.
# # #
Author: Michelle Prichard, Staff Writer, Pacific Northwest National Laboratory
This work was supported by the U.S. Department of Energy's Office of Science, through the Biological and Environmental Research program as part of the Atmospheric System Research program.