Tests of Single-Column Models with ARM Data
Randall, D. A., Colorado State University
General Circulation and Single Column Models/Parameterizations
Cloud Modeling
N/A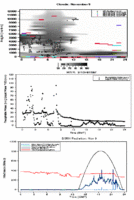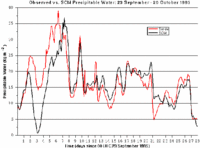 One of the primary goals of ARM is to collect observations that can be used to test models of cloud formation and radiative transfer in the atmosphere. One class of such models, called "single-column models," is designed to predict the clouds and radiation in the column of air above the ARM Southern Great Plains site.
Figure 1 shows the results of cloud analyses performed for the purpose of comparisons between ARM data and model results. In the upper panel, the grey shading represents relative humidity (darker colors mean higher values), and the dots and lines indicate cloud base levels obtained from ground-based lidars, and cloud-top levels inferred from satellite data, respectively. In the middle panel, the x's indicate total column water vapor, and the dots indicate total column liquid water amounts; the latter values have been multiplied by 100 to permit plotting on the same scale. In the lower panel, the red curve represents the downward infrared radiation, the smooth black curve represents the maximum possible solar radiation, and the other curves represent various measures of the solar radiation that was actually observed.
In Figure 2, the red curve represents the total column water vapor as observed using radiosondes, and the black curve represents the corresponding values predicted by a single-column model.
This is work in progress. Several modeling groups around the United States and in Europe are currently using the ARM Southern Great Plains data to drive single-column models. Over the coming months we can expect to see many new results from these model-data intercomparisons.