Cloud Boundary Detection and Analysis from Micro Pulse Lidar
Spinhirne, J., University of Arizona
Cloud Distributions/Characterizations
Cloud Properties
N/A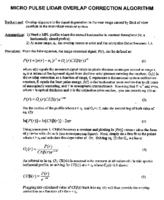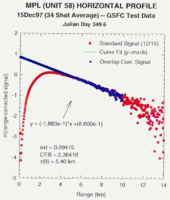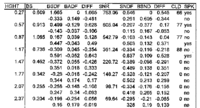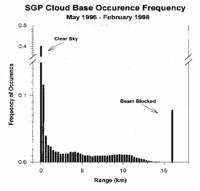 ---
Figure 1. A high resolution MPL image for 14 January 1998 during testing of MPL008 (NSA unit) at NASA-Goddard Space Flight Center.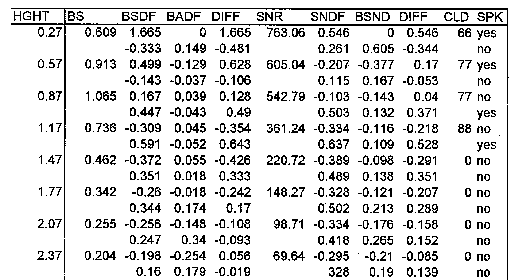 ---
Figure 4. Cloud boundary detection algorithm statistical output for the first 2.4 km of a one-minute averaged MPL shot.
Three low-resolution (300m) Micro Pulse Lidar (MPL) units have been operated by ARM over the past 4 years, two at the southern Great Plains CART site (SGP) and another at the Manus Island ARCS location (TWP). MPL units provide continuous, unattended lidar (523 nm) observations of all significant atmospheric cloud and aerosol structure through a rugged, compact system design with the benefit of eye-safety. MPL data can be used to yield numerous cloud physical and radiative parameters including cloud boundary heights to the limit of signal attenuation, cloud scattering cross sections and optical thicknesses, planetary boundary layer heights and aerosol scattering profiles. Two high-resolution systems (30m)will come on-line shortly at the North Slope, AK CART site (NSA)and TWP ARCS II location bringing the exciting prospect of more detailed datasets.
MPL systems record one minute shot averages with a pulse repetition frequency of 2500 Hz. From the lidar equation, raw count rates take the form:

nr(r) = [(Oc(r)CEB(r)T2 / r2) + nb(r) + nap(r)]/DTC[n(r)]
where n equals the measured signal return in photo-electron counts per second at range r, Oc is the overlap correction as a function of range caused by field of view conflicts in the transmitter-receiver system, C represents the dimensional system calibration constant, E is the transmitted laser pulse energy, B is the backscatter cross section due to all types of atmospheric scattering, T is the atmospheric transmittance, nb is background contribution from ambient light, nap is the afterpulse correction for detector run on and DTC is the detector offset deadtime correction.
A new algorithm recently added to the ARM Value Added Procedure (VAP) fold takes this equation to the form:

[(nr(r)*DTC[n(r)])-nb-nap(r)]r2/Oc(r)E = CB(r)T2
This product is referred to as normalized relative backscatter (NRB) and is now available in real-time for the SGP and TWP MPL units. Solving this equation requires calibrating each system for signal and range dependent deadtime, afterpulse and overlap corrections. Deadtime is solved for by fitting a curve to the statistical offset (function of raw count rate) as provided by the photon detector manufacturer. Afterpulse is done similarly as a curve is fit to an averaged MPL profile taken while the unit is pointed at a hard target approximately 300 m in range. The residual run-on past this target represents afterpulse. Overlap correction is detailed in Figures 2 and 3.
A cloud boundary detection algorithm has also been written for the ARM VAP code which vertically differences NRB and corresponding signal-to-noise ratios (SNR) from adjacent range bins from one-minute averaged shots compared to a similarly analyzed clear-sky baseline. Days are divided into 12 seperate periods where a coarse 3-point vertical integration scheme seeks out clear profiles for possible baseline use (based on a locale-dependent minimum required to yield an update) before NRB and SNR returns are seperately analyzed. Figure 4. shows algorithm output for vertical range bins from a one-minute averaged shot. Each bin contains upwards and downwards relative differencing for both values versus the baseline. The threshold for cloud is a combination of minimum increases of 55% for NRB and approximately 42% for SNR. Due to the dependence of SNR on background rates, this combination actually allows the threshold to become more stringent in noisy situations. Cloud base heights from processed MPL data between May 1996 and February 1998 at SGP were examined for range bin occurence frequencies. These results are shown in Figure 5.
The MPL data archive produced by ARM-owned systems includes over 4 years of nearly continuous observations at SGP and TWP combined. Development within the ARM VAP code has yielded a real-time normalized relative backscatter product as well as multiple cloud boundary heights. Both products will make the use of MPL datasets much easier for ARM data users for both climatological work and cloud and aerosol radiative studies.