Potential of Higher-order Radar Moments and Slopes for Observing Arctic Ice Clouds
Maahn, M., University of Colorado

Cloud Distributions/Characterizations
Convective Processes
Maahn M and U Löhnert. 2017. "Potential of higher-order moments and slopes of the radar Doppler spectrum for retrieving microphysical and kinematic properties of Arctic ice clouds." Journal of Applied Meteorology and Climatology, 56(2), 10.1175/jamc-d-16-0020.1.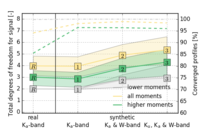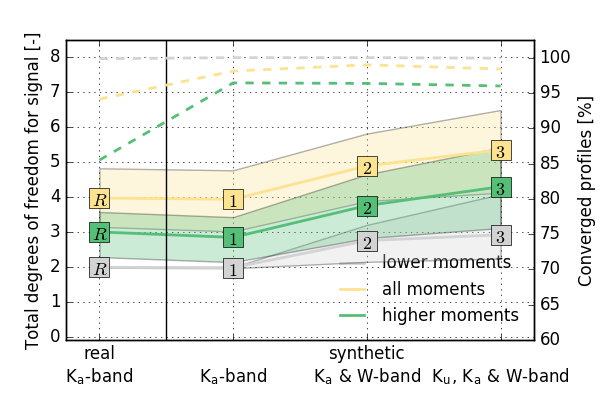 ---
Total degrees of freedom for signal obtained for the three retrieval configurations (lower moments, all moments, higher moments) as a function of observations used: real single frequency observations [R] as well as synthetic single-, dual-, and triple-frequency observations ([1], [2], and [3], respectively). The dashed lines indicate the percentage of converged profiles.

---
Relative uncertainty of the solution for the exponent of the mass size relation (a) and the pre-factor of the gamma distribution describing the particle size distribution (b) as box and whisker plots. The color indicates the set of moments and slopes (gray: LM, yellow: AM, green: HM) and the symbol indicates the median for real ([R] Ka-band) and synthetic radar observations with 1-3 frequencies ([1], [2], and [3]). The bold line indicates the a priori uncertainty.
Science
Classical radar observations of clouds are partially ambiguous for deriving micro-physical ice cloud characteristics such as water content and particle size. Here, we investigate whether additional information contained in the higher moments (Spectrum Width, Skewness, Kurtosis) and the slopes (left and right) of the radar Doppler spectrum (that can be easily derived from modern zenith-pointing Doppler radars) can improve ice cloud retrievals.
Impact
We found that higher moments and the slopes contain valuable additional information and their use can reduce the uncertainties of ice cloud retrievals significantly, in particular when using multiple frequencies.
Summary
We developed a Bayesian ice cloud retrieval using Optimal Estimation. We used in situ aircraft data obtained during the Indirect and Semi-Direct Aerosol Campaign (ISDAC) obtained around Utqiagvik (formerly known as Barrow), AK as an a priori data set. Using mainly synthetic but also real cloud radar observations, we compared retrievals exploiting three different sets of observations (lower moments LM, higher moments HM [includes slopes], and all moments AM) using one, two, or three radar frequencies. The retrieval state vector consists of the microphysical (particle-size distribution, mass-size relation, and cross section-area relation) and kinematic (vertical wind and turbulence) quantities required to forward-model the moments and slopes of the radar Doppler spectrum. To the authors' knowledge, this is the first study characterizing simultaneously microphysical quantities and kinematic properties of ice clouds based on radar observations. We found that particularly the uncertainty of quantities describing the mass-size and the area-size relations of ice particles as well as the turbulence benefit from the use of higher moments and the slopes. For a single radar frequency, more information can be retrieved when including higher-order moments and slopes than when using only reflectivity and mean Doppler velocity but two radar frequencies. `