Observations Show That Smaller/faster Falling Convective Ice Particles Improve GCM Simulations
Del Genio, A. D., National Aeronautics and Space Administration

General Circulation and Single Column Models/Parameterizations
Warm Boundary Layer Processes
Elsaesser GS, AD Del Genio, JH Jiang, and M van Lier-Walqui. 2017. "An Improved Convective Ice Parameterization for the NASA GISS Global Climate Model and Impacts on Cloud Ice Simulation." Journal of Climate, 30(1), 10.1175/jcli-d-16-0346.1.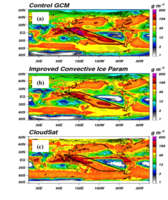 ---
(a, b) Example ice particle mass distributions; (c) new convective ice sedimentation rate; (d) difference between the new and old ice sedimentation rates.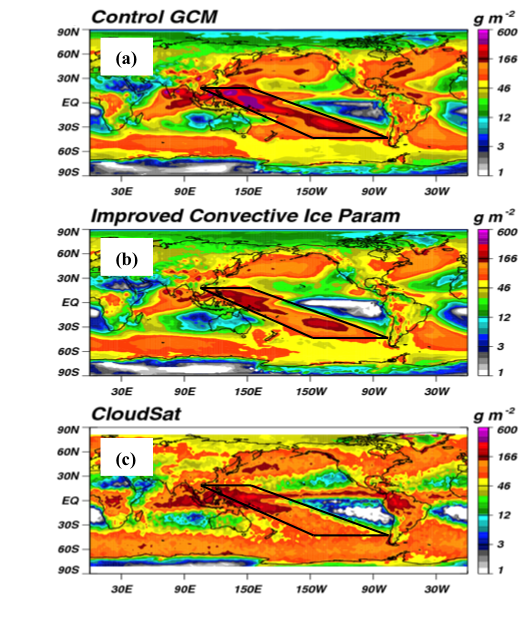 ---
(a) Ice water path (IWP) from a 5-year prescribed sea surface temperature GCM simulation before the new convective ice parameterization was incorporated; (b) IWP from the GCM with the improved convective ice parameterization; (c) CloudSat IWP (2006-2010 average). A 30-50% decrease in simulated IWP was found in the outlined region of the Pacific Ocean.
Science
Aircraft observations from multiple ARM field campaigns show that ice particles detrained from deep convective clouds are smaller and fall faster than previously assumed. We have used this new knowledge to improve the representation of convective ice in the NASA GISS global climate model (GCM), and as a result, our GCM simulation of ice clouds in and near regions of active convection has improved.
Impact
The GISS GCM produced too much cloud ice, especially in convective regions where deep, raining clouds are found. Depending on their altitude and thickness, ice clouds have the potential to warm or cool Earth's surface; therefore, our improved simulation of cloud ice in the upper troposphere is an important step toward increasing the accuracy of climate projections.
Summary
Recent studies showed that the GISS GCM simulated upper tropospheric ice water contents (IWC) that exceeded an estimated upper bound by a factor of 2. We traced this to our GCM approach for partitioning ice formed in deep convective updrafts into falling (i.e., snow) and lofted/detrained (i.e., cloud) components. We analyzed aircraft observations of ice clouds (e.g., from MC3E) adjacent to deep convective cloud cores to develop new observational benchmarks for ice particle sizes/fall speeds. We determined that our assumed convective ice particles were often too large and fell too slowly. As a result, we developed new empirical relationships for the sizes and fall speeds of ice particles near active convection, and we imported these relationships into our GCM convective parameterization. Because ice particles in deep clouds are smaller, but fall faster, there is an overall decrease in cloud ice water content in deep convective regions. The new cloud ice simulation agrees better with satellite retrievals (e.g., CloudSat). Our study highlights the value of using multiple field campaign and satellite observations in both the GCM development step and the subsequent GCM evaluation step.