A Multi-year Analysis of Precipitation Properties at the Eastern North Atlantic Observatory
Giangrande, S., Brookhaven National Laboratory

Cloud Processes
Warm Boundary Layer Processes
Giangrande S, D Wang, M Bartholomew, M Jensen, D Mechem, J Hardin, and R Wood. 2019. "Midlatitude Oceanic Cloud and Precipitation Properties as Sampled By the ARM Eastern North Atlantic Observatory." Journal of Geophysical Research: Atmospheres, 124(8), 10.1029/2018JD029667.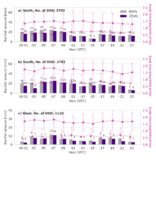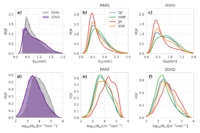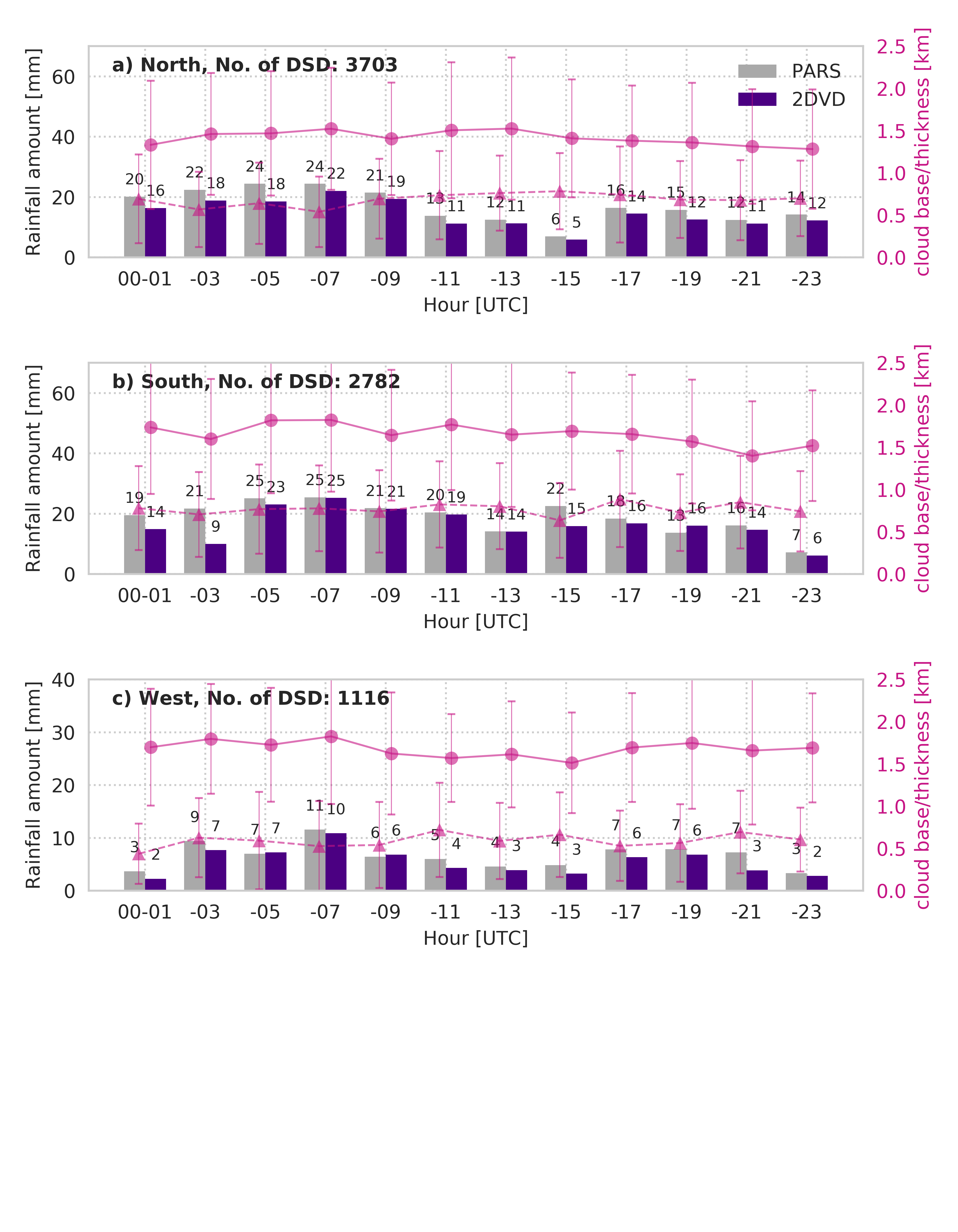 ---
Diurnal cycle of precipitation from ARM disdrometers for low-cloud events on the ambient wind directions: (a) northeasterly, (b) southerly, and (c) westerly. Cloud base (triangles) and cloud thickness (circles) are also plotted.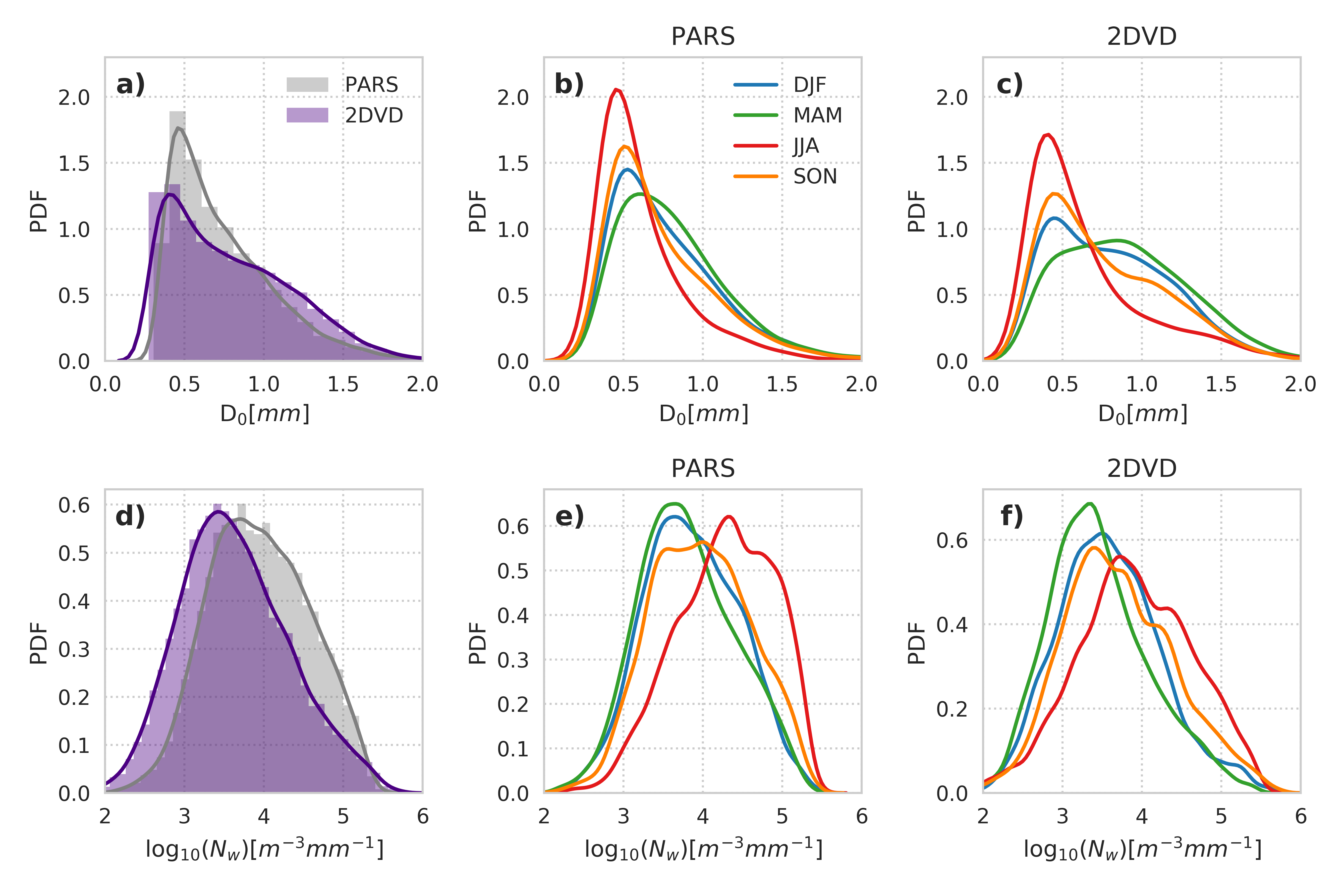 ---
Median drop D0 and log10(Nw) number concentration distributions for the ENA data set (a, d), and for different seasonal breakdowns in (b), (c), (e), and (f).
Science
In 2013, the U.S. Department of Energy (DOE) Atmospheric Radiation Measurement (ARM) user facility established a fixed observing site on Graciosa Island in the Azores, Portugal. Previous research indicates that the Azores region of the eastern North Atlantic (ENA) experiences different cloud regimes with a frequency that is broadly similar to those experienced globally. Multi-year ARM cloud and precipitation observations at the ENA site are now available for evaluating large-scale climate models over a wide range of cloud conditions. This study focuses on the analysis of surface-based cloud and precipitation measurements to quantify the variability of rainfall size distribution parameters in this under-sampled region. The variety of cloud conditions over ENA also supports this location as an important anchor for refining our global remote-sampling capabilities, including applications from spaceborne platforms.
Impact
Marine low clouds are critical to the climate system because of their extensive coverage and associated controls on boundary-layer dynamics and the radiative energy balance. This study focuses on marine low-cloud observations over the heavily instrumented ENA site in the Azores archipelago in the eastern North Atlantic (ENA) and their associated raindrop size distribution properties, the low-cloud contributions to the precipitation and its diurnal/seasonal cycles, and additional synoptic-scale controls on cloud characteristics. The effort provides new information on several topics, including the contribution from low clouds to the total precipitation over mid-latitude oceans, that have been poorly understood because of the lack of high-quality measurements in suitable locations.
Summary
The ARM ENA site hosts several instruments for continuous cloud and precipitation sampling, including vertically pointing millimeter-wavelength radars collocated with multiple surface precipitation gauge and disdrometer units. This multi-year ENA study adds to the growing global precipitation record, investigating oceanic precipitation from shallow to deeper clouds not well captured by previous ground-based deployments. The Azores is a unique location in the context of precipitation studies, as it regularly experiences both subtropical and mid-latitude synoptic environments. Although measurable surface precipitation only occurs in a relatively small fraction of the time we observe lower clouds over the ENA site, this study finds these clouds account for a significant (45%) contribution to the total rainfall. Furthermore, cloud and precipitation properties are investigated according to environmental controls such as the 850-mb horizontal winds and surface pressure. From these analyses, we suggest that the synoptic state exerts a significant control on low-cloud thickness and surface precipitation properties.