The Aleutian Low-Beaufort Sea Anticyclone: a Climate Index Correlation with the Timing of Springtime
Cox, C. J., Cooperative Institute for Research in Environmental Science

Surface Properties
High Latitude Processes
Cox CJ, RS Stone, DC Douglas, DM Stanitski, and MR Gallagher. 2019. "The Aleutian Low‐Beaufort Sea Anticyclone: A Climate Index Correlated With the Timing of Springtime Melt in the Pacific Arctic Cryosphere." Geophysical Research Letters, 46(13), 10.1029/2019GL083306.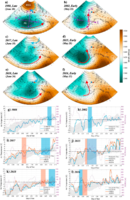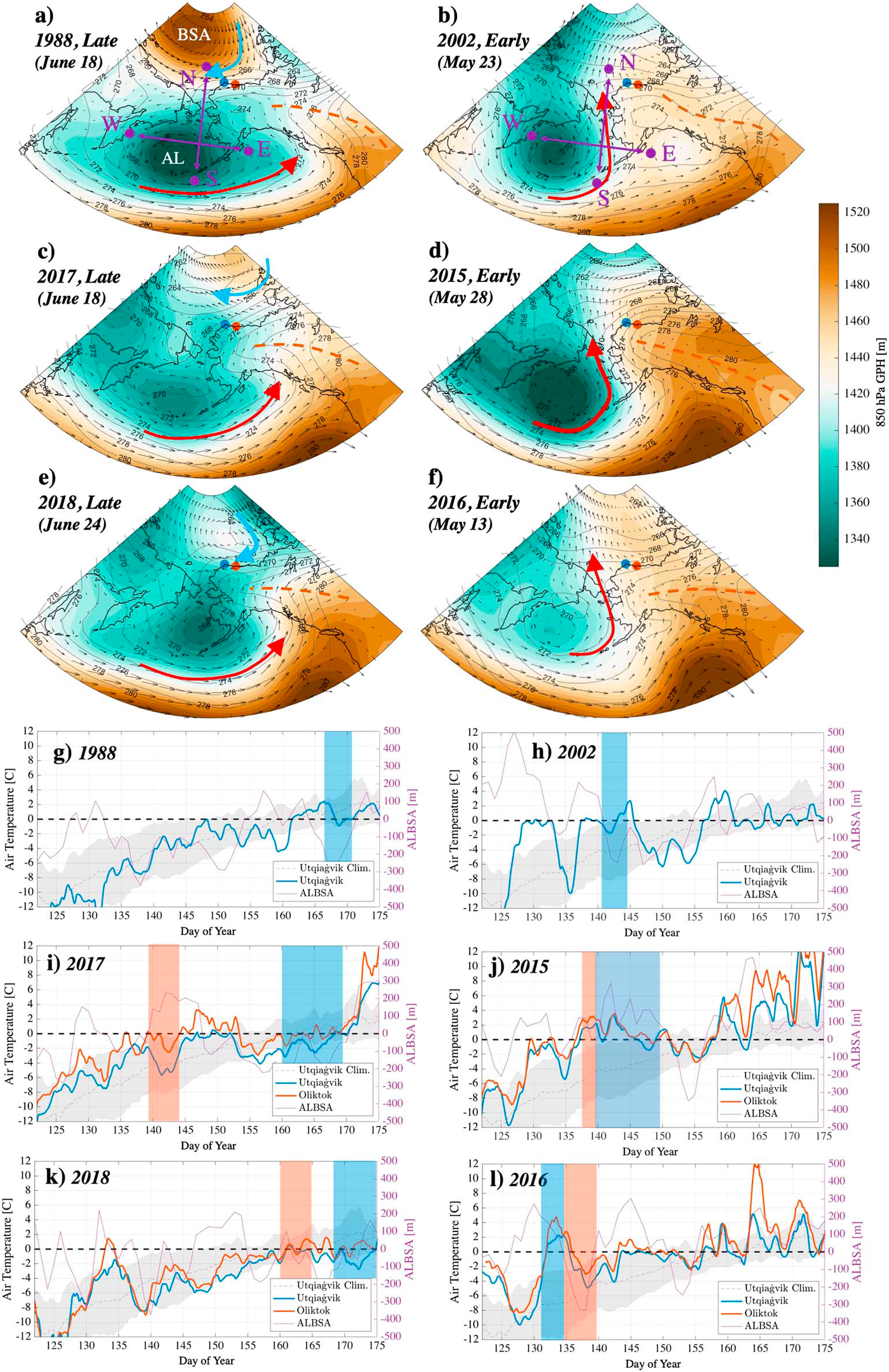 ---
850‐hPa geopotential height averaged for May (solid contours) in (a) 1988, (b) 2002, (c) 2017, (d) 2015, (e) 2018, and (f) 2016. The open contours are air temperature, and the arrows are wind vectors at 850 hPa. The blue dot is Utqiaġvik, and the red dot is Oliktok. Dates are the snowmelt date at Utqiaġvik. The colored arrows illustrate the general direction of the air flow around the AL (red) and the BSA (blue). The dashed‐brown line is the high‐pressure ridge (HPR). Panels (a) and (b) show locations of the four Aleutian Low‐Beaufort Sea Anticyclone (ALBSA) coordinates (purple; section 4.2). (g‐l) Hourly 2‐m air temperature smoothed with a 24‐hr moving window May‐June for years corresponding to (a)‐(f), 2‐m air temperature climatology (dashed) with ±1σ (shaded), and daily ALBSA (purple dots). The vertical bars show the snowmelt period defined as the period when daily mean albedo falls from 0.7 (melt onset) to 0.3 (melt complete) at Utqiaġvik (blue) and Oliktok (red).
Science
A new metric is proposed, a climate index termed Aleutian Low-Beaufort Sea Anticyclone (ALBSA), which is suitable for monitoring and studying the predictability of the timing of springtime melt in the Alaskan Arctic.
Impact
Forecasts of the timing of melt onset over sea ice and snow melt over land with lead times of weeks to months are important for area stakeholders in the Alaskan region, including industry, environmental managers, and arctic communities.
Summary
Early and late extremes in timing of snowmelt have recently been observed in northern Alaska. We find that transport of air masses from the north Pacific influences the timing of melt on Alaska's North Slope and the adjacent seas. Motivated by this finding, we developed a new index called the Aleutian Low – Beaufort Sea Anticyclone (ALBSA) as a metric sensitive to the regional atmospheric circulations responsible for the transport of the air masses. When ALBSA is positive, warm Pacific air is observed over the Bering Strait and in the far western arctic seas, and correspondingly the metric is correlated with the timing of spring melt. While individual weather events are ultimately responsible for melt, the index is sensitive to the position of the storm track, which varies more slowly than the weather events embedded within, potentially extending the lead time for advanced warning of the likelihood of early melt in the Alaskan Arctic region in spring.